2018 Porsche 911 GT3 RS: new official video of 513bhp supercar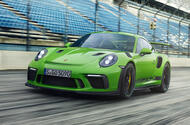 NACA ducts in the bonnet are new and aid brake cooling
Latest version of Porsche's icon gets a raft of chassis tweaks with GT2 RS influences
Porsche Motorsport unveiled the second generation of 911 GT3 RS to be based on the extant 991 platform this week – and now it's released a video to illustrate the car's performance and sound.
The car, likely to be the last 991-based model to be launched before a new 911 (codenamed 992) arrives in September, is filmed at Germany's Lausitz racing circuit to emphasise its track focus.
Available to order now at a price of £141,346, with first UK deliveries in June, the new 911 GT3 RS receives an additional 20bhp from a lightly modified version of Porsche's race-bred 4.0-litre six-cylinder engine, increasing its power to 513bhp at 8250rpm.
Riding in the new 911 GT3 RS with Walter Rohrl
This is the highest power figure yet for a naturally aspirated 911 and serves to distance the new 911 GT3 RS from the standard 911 GT3, which was equipped with the same 493bhp engine as the first-generation 911 GT3 RS when it was updated last year.
The internals of the new engine remain unchanged, the additional power coming instead from new intake and exhaust systems, coupled with changes to Porsche's DME (Digital Motor Electronics) engine management.
Porsche motorsport guru Andreas Preuninger confirmed to Autocar that the engine actually develops more power than is claimed and could have been homologated at 523bhp, but they decided to err on the side of caution. In racing trim, if allowed to run without air restrictors, the engine could make more than 600bhp.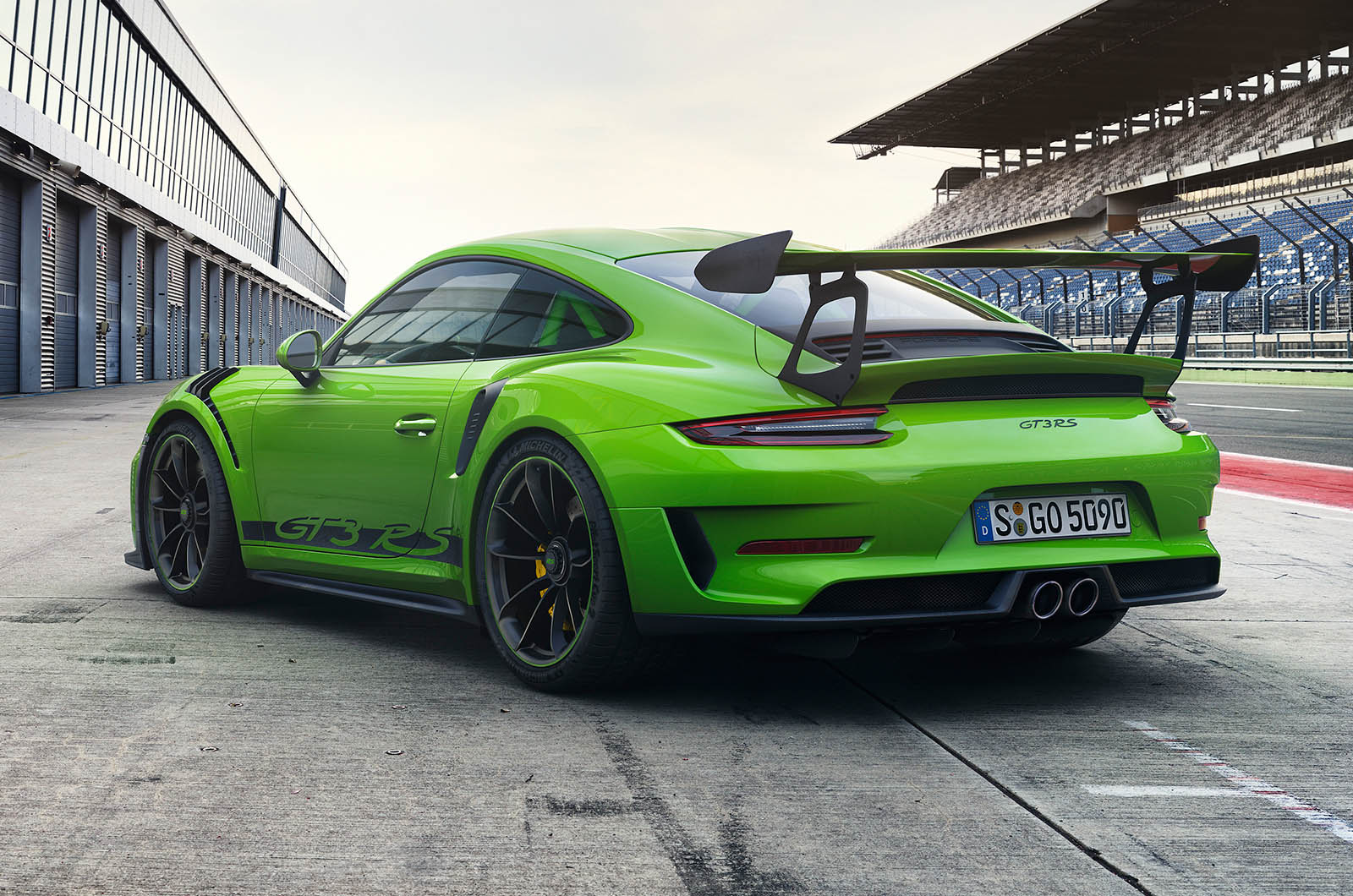 Like the previous 911 GT3 RS, the engine is mated to a seven-speed PDK double-clutch transmission and there is no option of a manual gearbox. The increase in power is claimed to shave 0.1sec from the outgoing 911 GT3 RS's 0-62mph time, lowering it to 3.2sec, while adding 1mph to its top speed at 194mph.
Modifications to the car's chassis were informed by the knowledge gleaned from the GT2 RS, launched last year. The new GT3 RS has the same spring rates front and rear as its turbocharged stablemate. At the front, those spring rates amount to double that seen on either the current 911 GT3 or previous GT3 RS, and the rear spring rate has increased by 40%. Like the 911 GT2 RS, rose joints are used throughout the front and rear suspension and the rear-wheel steering system has been extensively reprogrammed.
All GT3 RSs are fitted with carbonfibre front wings and bonnet (with new NACA ducts to aid brake cooling) and a magnesium roof. Cars with the optional Weissach Pack come with carbonfibre roofs and the option of magnesium wheels. Buyers who specify the full pack will save 29kg.
Visually, the new Porsche road racer is differentiated from its predecessor by a series of subtle aerodynamic and styling upgrades. They include new LED indicator lamps set within a re-profiled front bumper. The bumper also features new vertical air flow guides within the outer ducts to more efficiently channel air to the front-mounted radiators and brakes. At the rear, there are more heavily structured rear lights, a new bumper with larger air extraction ducts and modified supports for the rear wing, which itself features newly shaped end plates.
The interior has carbonfibre-backed racing seats, lightweight door panels with storage nets and nylon opening loops. Other weight-slashing measures include a reduction in sound absorption material and a lightweight engine lid.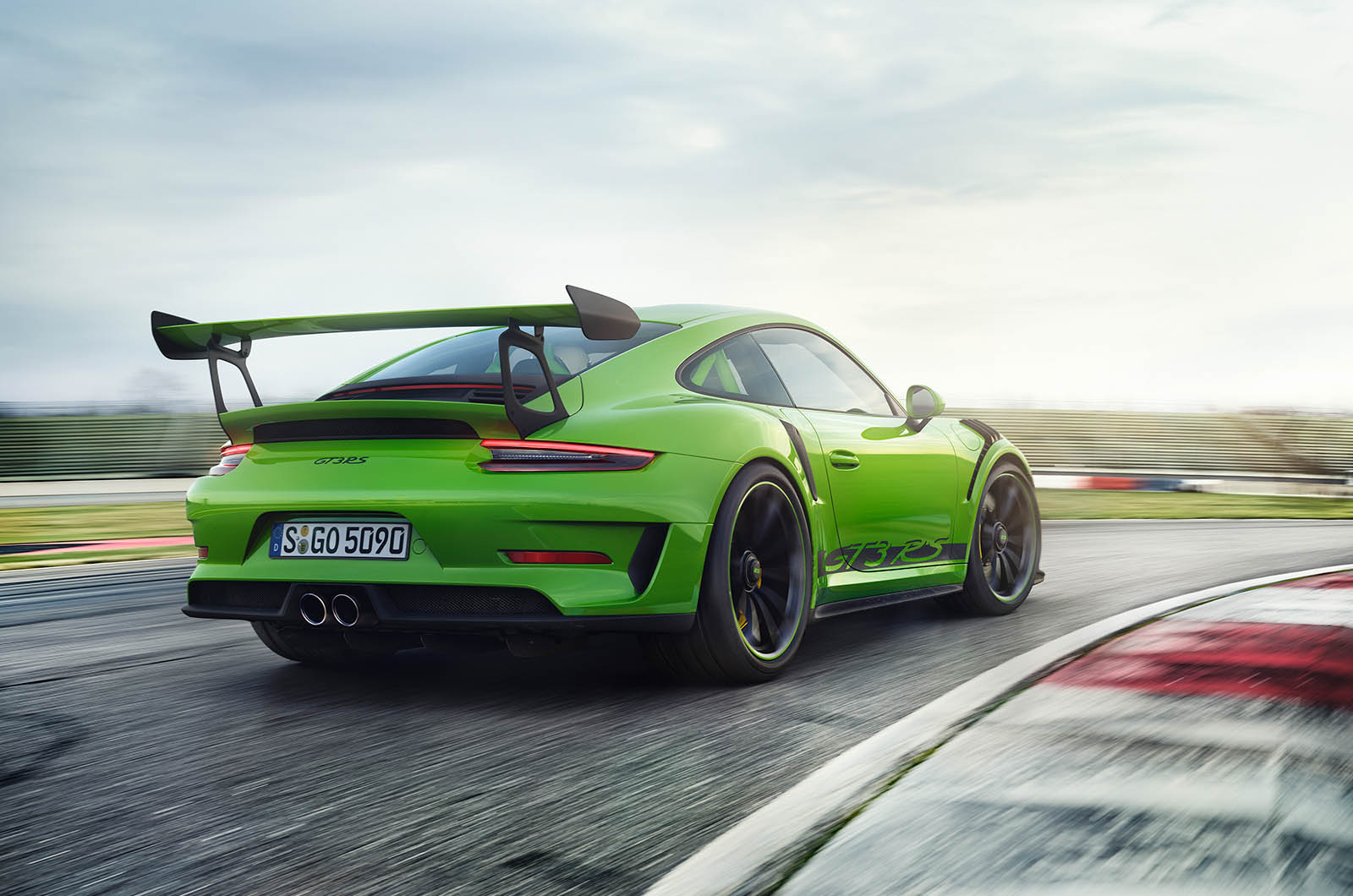 These modifications to the 911 GT3 RS should add up to an approximate 10sec improvement in Nürburgring lap time.
The reason the new GT3 RS is being rolled out after the GT2 RS rather than before it (which would seem more logical and follow the template set by the previous GT2 RS in 2010) is that Porsche was not prepared to wait until this spring to wrest the Nürburgring production car lap record back from in-house rival Lamborghini, so launched its most extreme model first. 
Read more 
Source: – autocar
2018 Porsche 911 GT3 RS: new official video of 513bhp supercar