2019 DS 3 Crossback: new Audi Q2 rival due with all-electric variant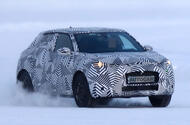 The DS 3 Crossback is due to be revealed later this year
DS plots to tackle mainstream with next-gen underpinnings and first EV; it's due for reveal this year
DS will make its biggest assault on the mainstream new car market with the launch of the 3 Crossback, which is due to be revealed later this year.
Following the recently launched 7 Crossback, the smaller, more affordable 3 Crossback will make use of new Compact Modular Platform (CMP) underpinnings that can easily be adjusted into ECMP form, making it compatible with electric powertrains.
DS's Audi Q2 rival, which is due on roads in 2019 priced from about £20,000, will therefore be available with combustion engine and electric power, with the latter set to be added to the range later in 2019. It will be the brand's first entry into the electric vehicle category. As such, the 3 Crossback will be a pivotal model in the brand's future growth plans.
Combustion-engined variants will be tasked with drastically boosting sales and reach, since they represent almost a third of new car sales. The electric version will be responsible for demonstrating DS's alternative power technology, with the brand serving as the flagship division of the PSA Group.
DS plans to launch a new car every year between now and 2025, with each one arriving with an electrified variant. CMP-based cars will spawn EV variants, while larger models based on EMP2 underpinnings, such as the 7 Crossback, will use hybrid drivelines.
The 3 Crossback is predicted to become the brand's biggest seller, overtaking its current champion, the 3 hatchback. Eventually, the 3 Crossback is expected to indirectly replace the 3 hatch, which only comes in three-door form, but this wouldn't happen until that model reaches the end of its life cycle.
A spokesman told Autocar that "profitability is key" with regard to the future range, suggesting that the future DS line-up will lose models that are not based on its CMP (and ECMP) or EMP2 structures. This mirrors streamlining plans for the wider PSA Group.
DS is also pushing to emphasise its premium rank within the PSA Group – which also includes Peugeot and Citroën, as well as the recently acquired Vauxhall/Opel – by applying a completely bespoke design language to its models.
DS first showed its new look with the 7 Crossback, which goes on sale in the UK next month. The sighting of a 3 Crossback development car – pictured here driving on a frozen lake in Arjeplog, Sweden – suggests the smaller model will inherit much of that car's design, including its slim lights and wide-mouthed front grille.
Peugeot has demonstrated the effectiveness of launching SUV models; its strong sales growth represented more than two-thirds of PSA's 2017 sales. DS's more expensive products mean it is unlikely to challenge for the top spot, but executives will be hoping the 3 Crossback can turn the company's recent sales downturn on its head.
Demand for DS models declined by a significant 38.5% last year, largely due to a heavy decrease in sales in the Chinese market.
Source: – autocar
2019 DS 3 Crossback: new Audi Q2 rival due with all-electric variant