Autocar Awards 2019: the winners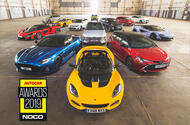 Autocar Awards 2019 – all the cars
Celebrating the most important cars of the past year and the inspirational people who make them
The Autocar Awards, in association with NOCO, celebrates the most impressive motoring achievements of the past 12 months and the people responsible for driving the industry forward. 
Held at Silverstone's Wing complex, this year's event shone a spotlight on the amazing cars, innovative technical achievements and inspiring leaders that have helped to make 2019 another pivotal year for motoring. 
Our top accolade, the Issigonis Trophy, was awarded this year to Daimler CEO Dieter Zetsche, whose passion for all things automotive and a customer-friendly business ethos have helped establish his brand as a flagbearer for innovation and development. 
Autocar Awards 2019: Daimler CEO Dieter Zetsche wins Issigonis Award​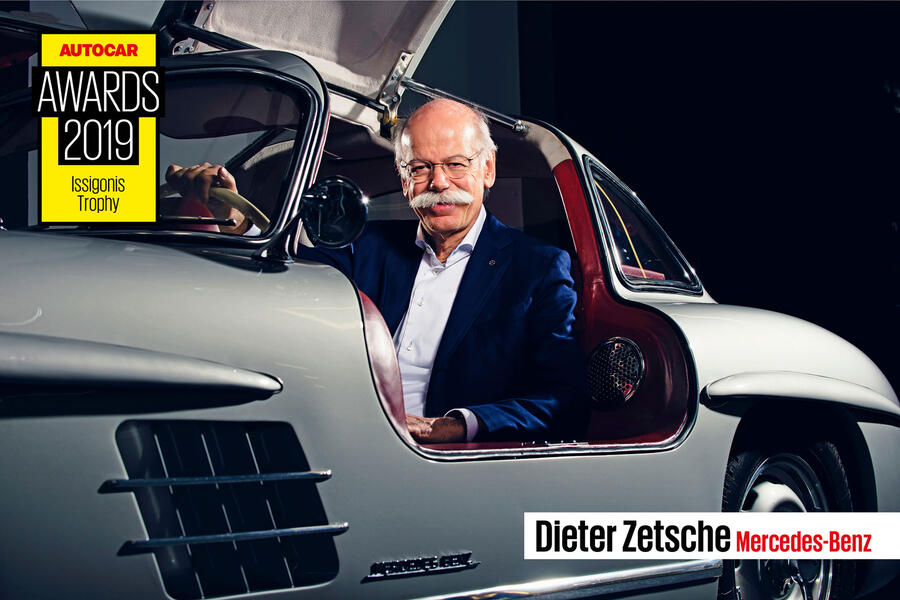 The Sturmey Trophy for technical achievement, named after Autocar founder Henry Sturmey, was given to Renault designer Laurens van den Acker. Under his design stewardship, the French brand's models have become renowned for their progressive and beautiful styling, helping to make the future of motoring look very bright indeed.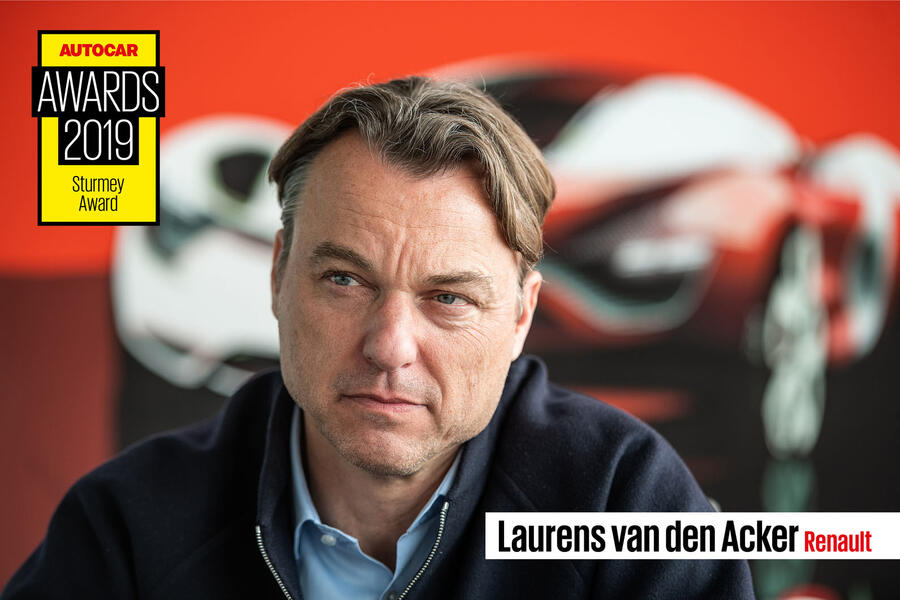 ​Autocar Awards 2019: Laurens van den Acker wins Sturmey Award​
Read on to find out who won the rest of this year's awards.
You can also find in-depth coverage of the Autocar Awards in this week's Autocar magazine. To subscribe, click here. To buy a digital copy, click here.
Editor's award
Andy Palmer
Aston Martin president and CEO Andy Palmer took home this year's Editor's Award for the fresh lease of life he has injected into one of Britain's best-loved brands.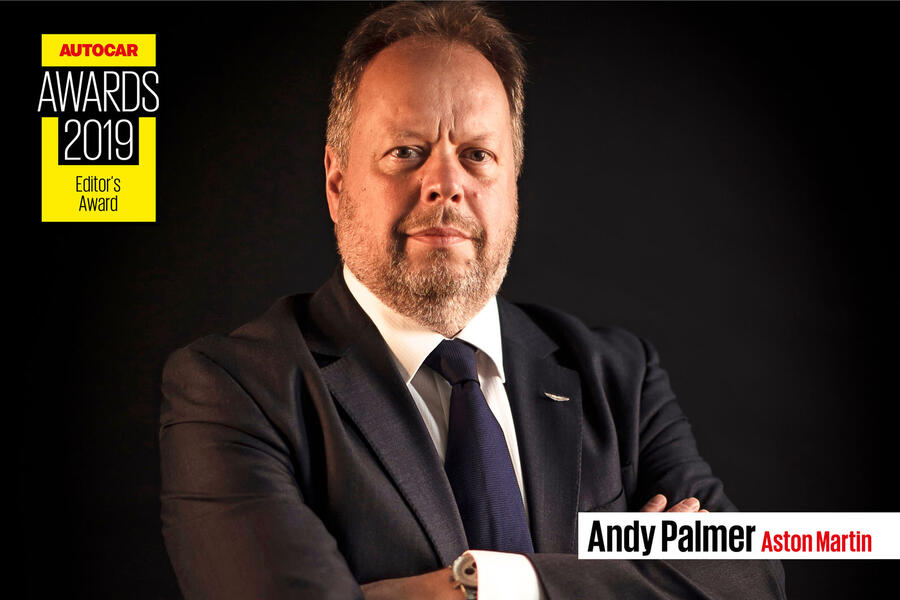 Palmer's Second Century business plan has already led to Aston Martin opening a second production facility in Wales, and the firm will soon bring a premium SUV, various electric and mid-engined models and the mind-bending Valkyrie hypercar to market. 
Lifetime Achievement
Mike Cross
The winner of this year's Lifetime Achievement Award has no intentions of throwing in the towel. Jaguar Land Rover's long-time chief engineer, Mike Cross, ensures his passion for dynamism and refinement is evident across the company's entire product range.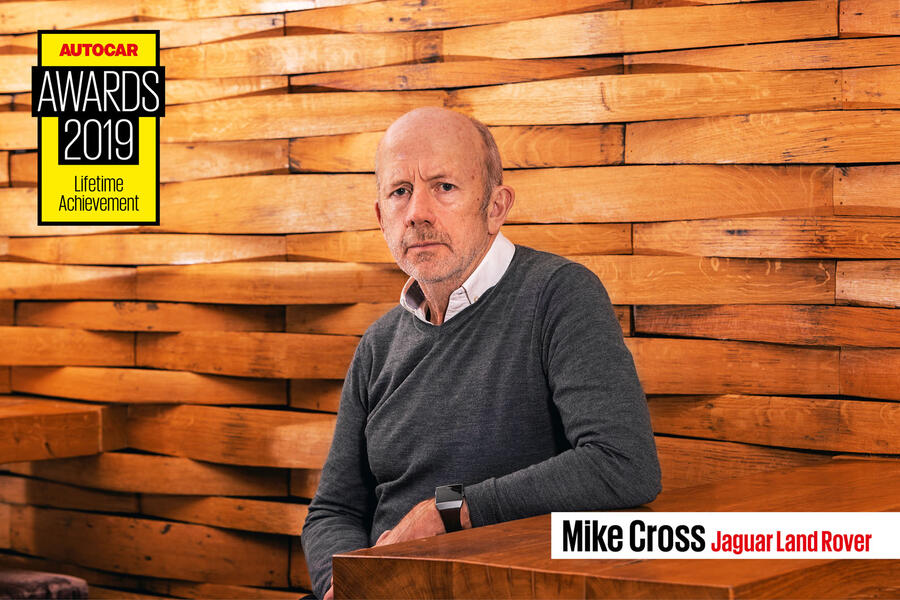 Handling has become a defining characteristic of all JLR cars, and it's thanks to Mike's drive and expertise that the company owes this radical reinvention of image. 
Game Changers
Our game-changers category highlights those cars responsible for bringing new, higher standards to a hard-fought class or defying conventions to bring unexpected benefit for buyers.
Ferrari 488 Pista
Even before getting behind the wheel of the 488 Pista, it would be hard for anyone to remain unmoved by its striking curves and tell-tale aerodynamic enhancements.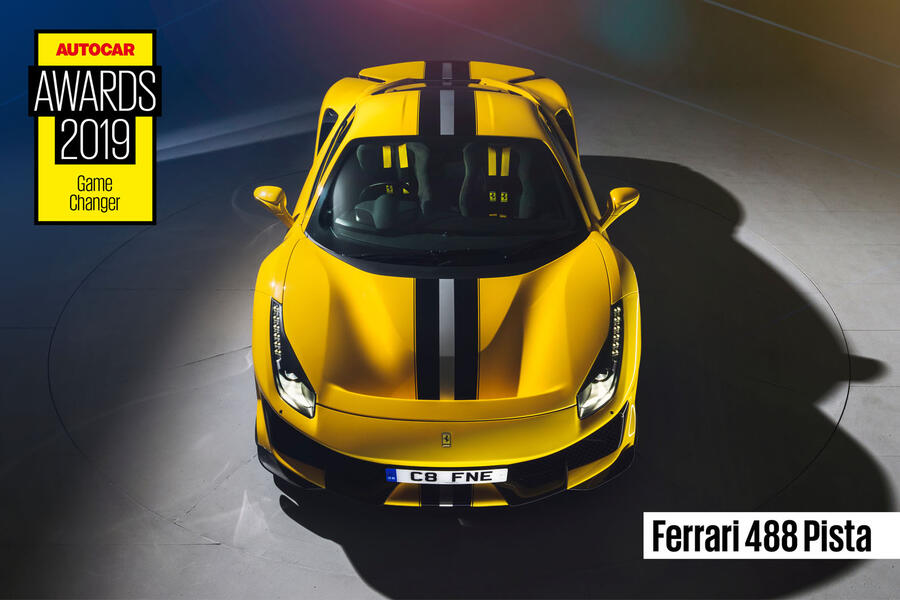 This mid-engined monster won favour with the Autocar test team for its circuit-destroying pace and agility, combined with a level of accessibility unprecedented in the supercar segment. 
Autocar's review of the 488 Pista
Hyundai Nexo
Hyundai's Kona Electric made the case for mass-market electrification an unexpectedly attractive proposition, but the Korean manufacturer isn't putting all its eggs in one basket.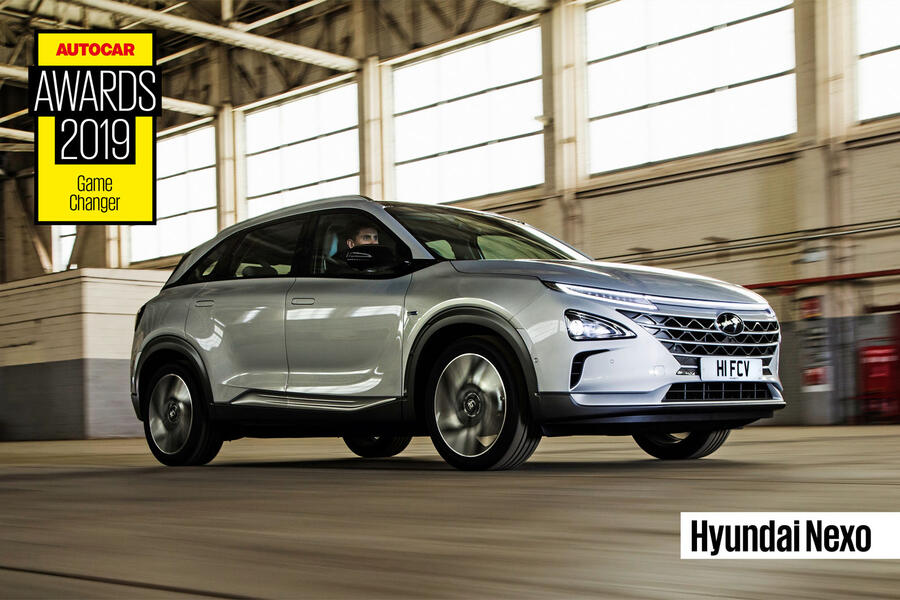 The Nexo is a hydrogen-fuelled SUV you could go and buy from a dealership right now, while most manufacturers are playing catch-up with alternative fuelling methods. On-road refinement, satisfying performance and remarkable styling are just some of the reasons the Nexo deserves a spot on our stage. 
Autocar's review of the Hyundai Nexo
Mercedes-AMG CLS 53
On to another manufacturer with big plans for electrification, and it's not one that we foresaw becoming a flag-bearer for efficiency. Mercedes-AMG is taking its range of incredible performance cars into the future with new mild-hybrid technology, as featured on the CLS 53 super-saloon.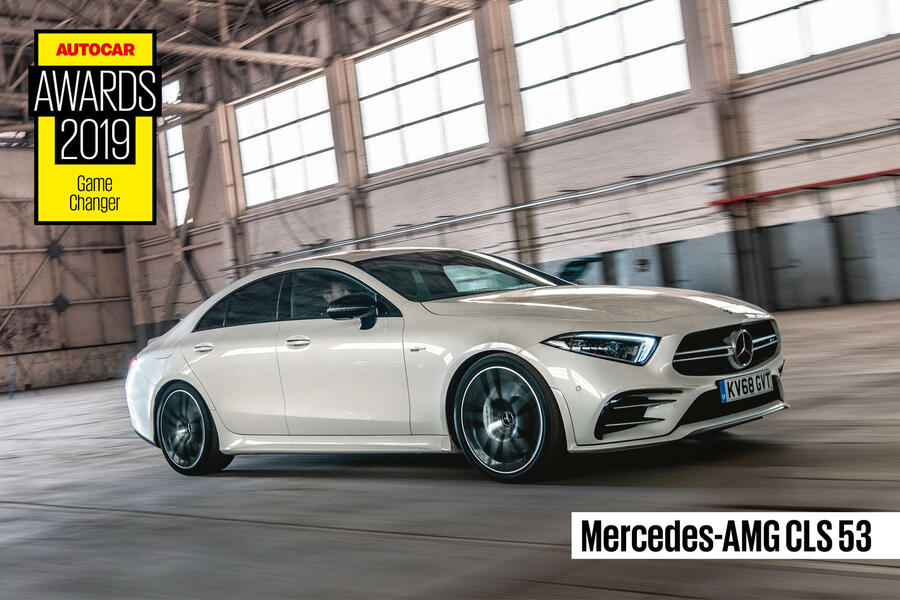 The departure of the brand's iconic V8 powertrain has made way for an electrified 3.0-litre straight-six, and our time behind the wheel showed us the swap is no bum deal. AMG, then, has drawn up a blueprint for the future of performance cars. 
Autocar's review of the Mercedes-AMG CLS 53
Suzuki Jimny
We waited two decades for the new Jimny, and rarely does a car make such a splash upon arrival.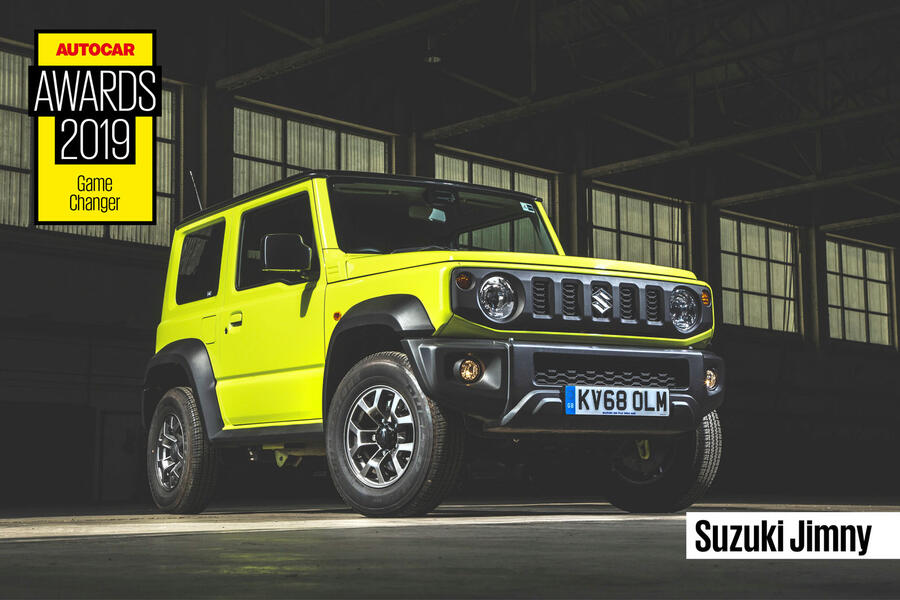 Its instant recognisability and surprising off-road competence made the diminutive 4×4 an instant Autocar favourite and marked it out as a welcome antidote to today's cohort of colossal SUVs. 
Autocar's Suzuki Jimny road test
Toyota Corolla
Toyota's new Corolla is an efficient, spacious family hatchback with a level of dynamism, refinement and quality that launched it straight to the top of its segment.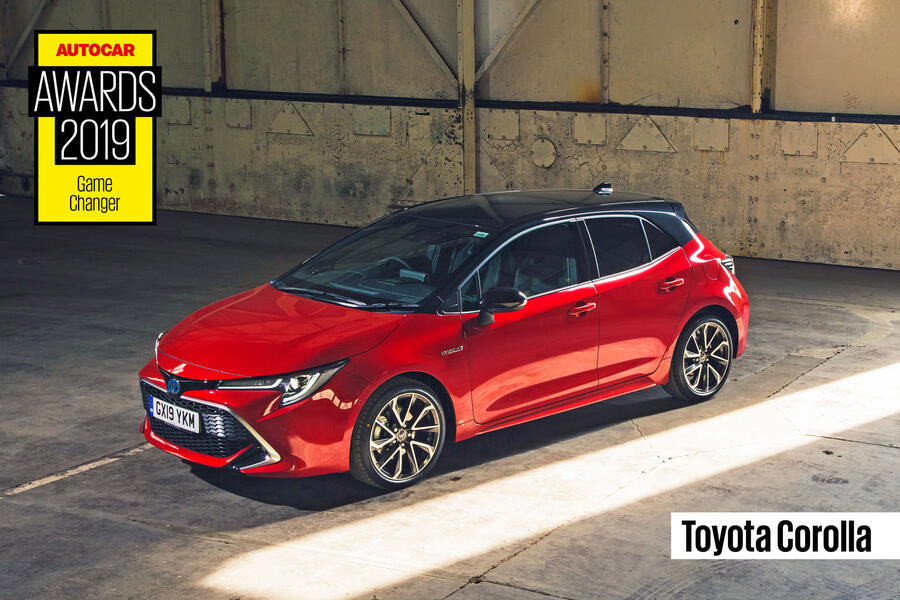 The UK's manufacturing sector is undergoing a tumultuous period of well-documented uncertainty, so the fact that the new Corolla will be built in Derbyshire is overwhelmingly welcome news for the nation's motoring community. 
Autocar's review of the Corolla
Kia e-Niro 
Range, performance, packaging and price: the Kia e-Niro excels across the board with an almost impercetible degree of compromise.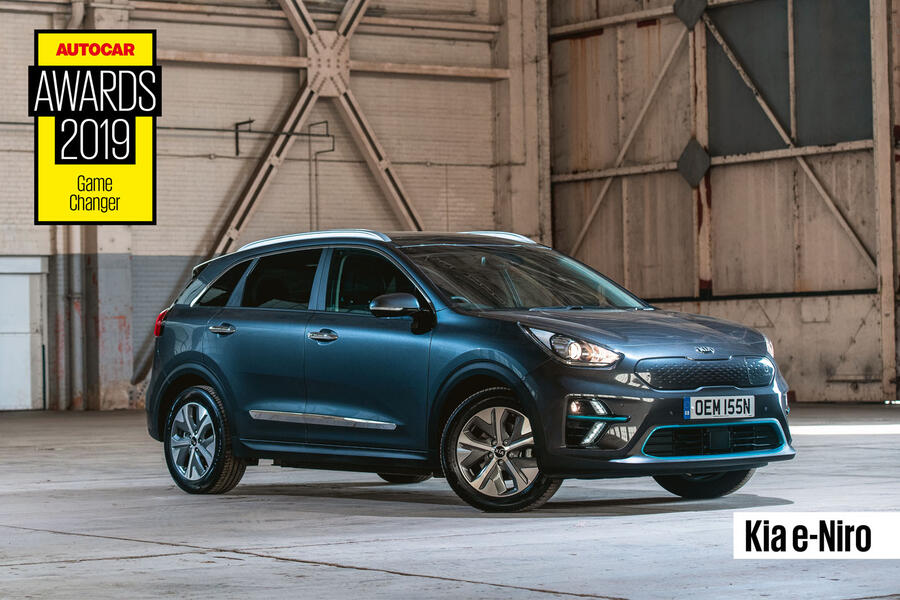 This compact SUV is responsible for Kia's rapid ascent to the top of the EV segment and represents an enticing proposition for buyers seeking to make the jump from conventional fuelling methods to electrification. 
Autocar's review of the e-Niro
Outstanding UK Leaders
Graeme Grieve, UK managing director, BMW
Our first Outstanding UK Leader is Graeme Grieve, whose time at the helm of BMW's UK operation has resulted in the company taking huge steps forward without losing sight of its heritage.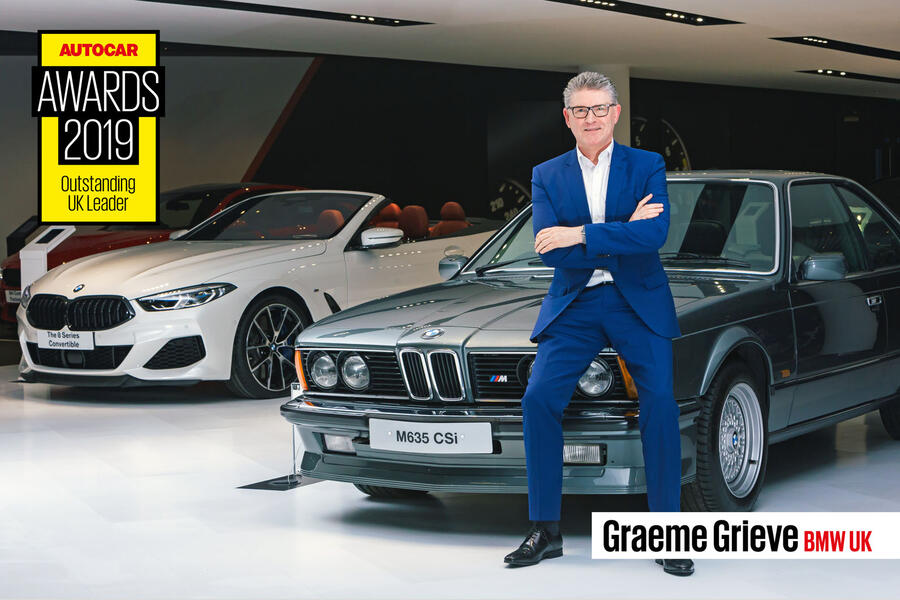 The premium brand is now well-established as one of the UK's leading sellers, and its expansion into a number of new segments will define Grieve's stewardship as one of the most pivotal periods in BMW's history.
David Richards, chairman, Prodrive and Motorsport UK
Winning the World Rally Championship with Ford in 1981 set David Richards on a path that would lead to him becoming renowned as a leading light in motorsport and technological development.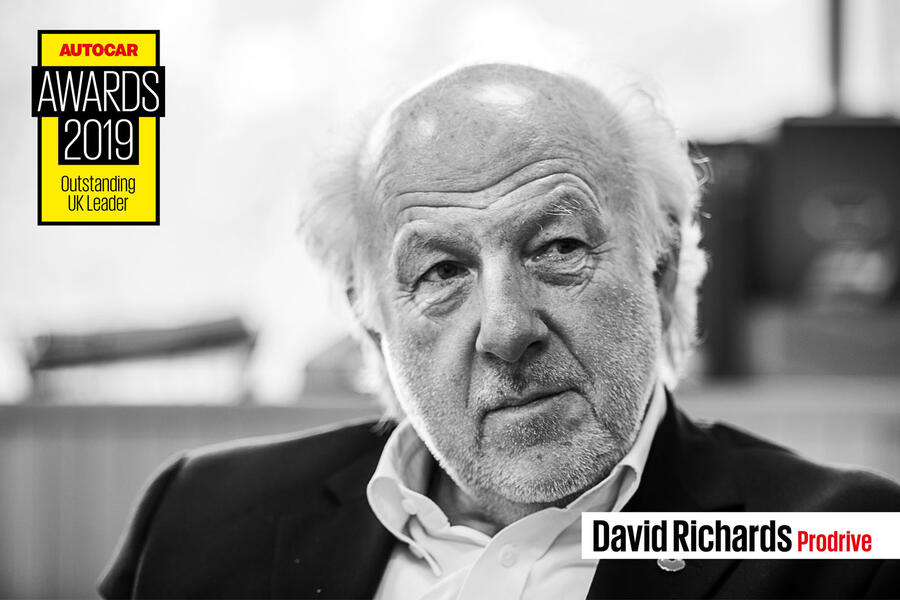 As boss of engineering firm Prodrive and chairman of Motorsport UK, Richards uses his wide-ranging influence to ensure motor racing remains exciting, unpredictable and impressive for competitors and spectators alike.
Paul Van der Burgh, GB managing director, Toyota
Widespread enthusiasm for the new Supra, RAV4 and Corolla is emblematic of Toyota's recent reinvention as a brand, and responsible for its new-found success in the UK is Paul Van der Burgh.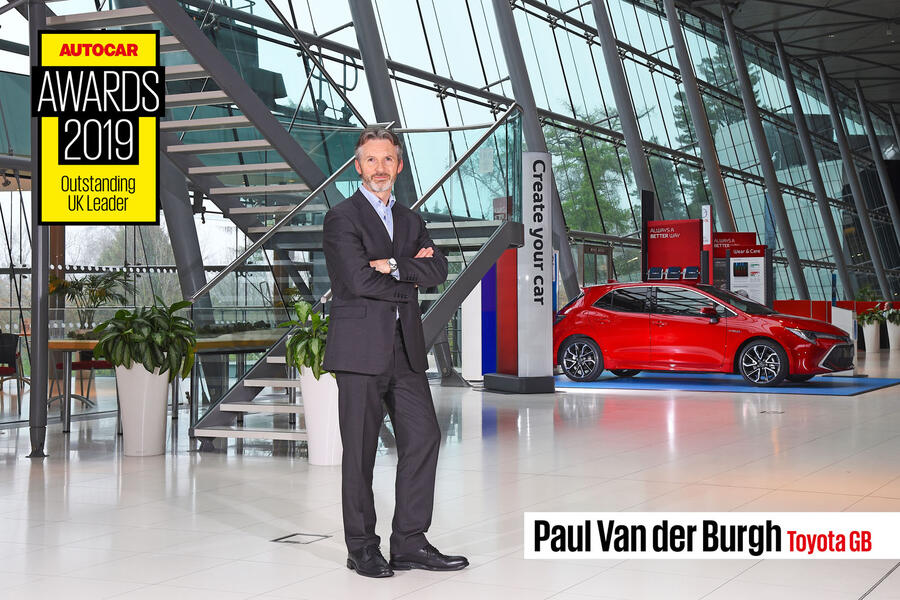 Toyota has been leading the push towards hybridisation for years now, and with Paul in the driver's seat in the UK, it's sure to go from strength to strength in the years to come. 
Used Car Hero
Volkswagen Golf
There's a sweet spot in the used car market where you can have a relatively fresh motor without bearing the brunt of the initial depreciation hit. Earlier this year, our used car expert James Ruppert, with the help of our knowledgeable readers, drew up a list of the best nearly new bargains, with the Golf taking the top spot.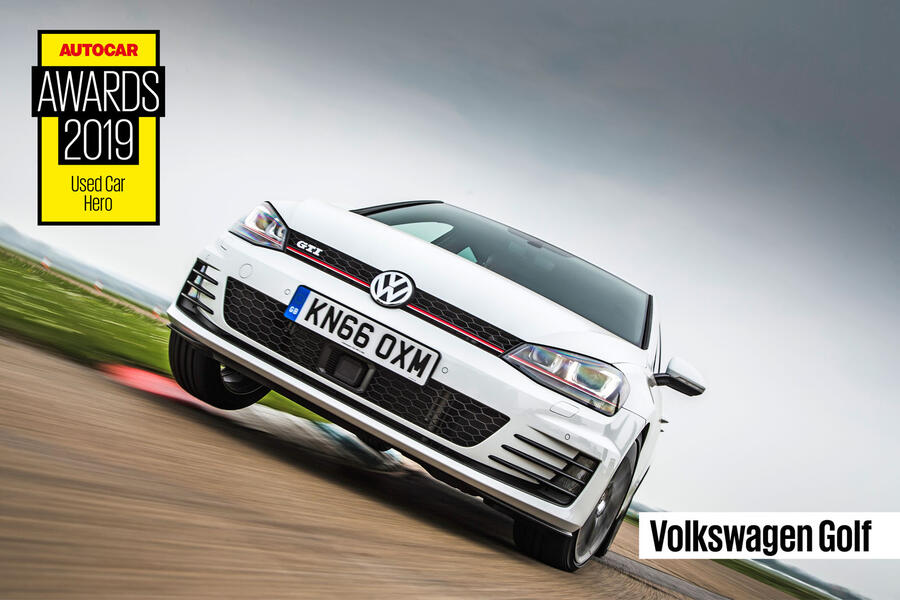 A classy, versatile family hatchback that has been on sale for nearly half a century, the Golf is still taking huge numbers of Britons from A to B every day. 
Autocar's review of the Volkswagen Golf
Best Affordable Driver's Car
Ford Fiesta ST
Late last year, we staged a showdown to find out which sub-£30,000 sports car offers buyers the best blend of practicality and performance.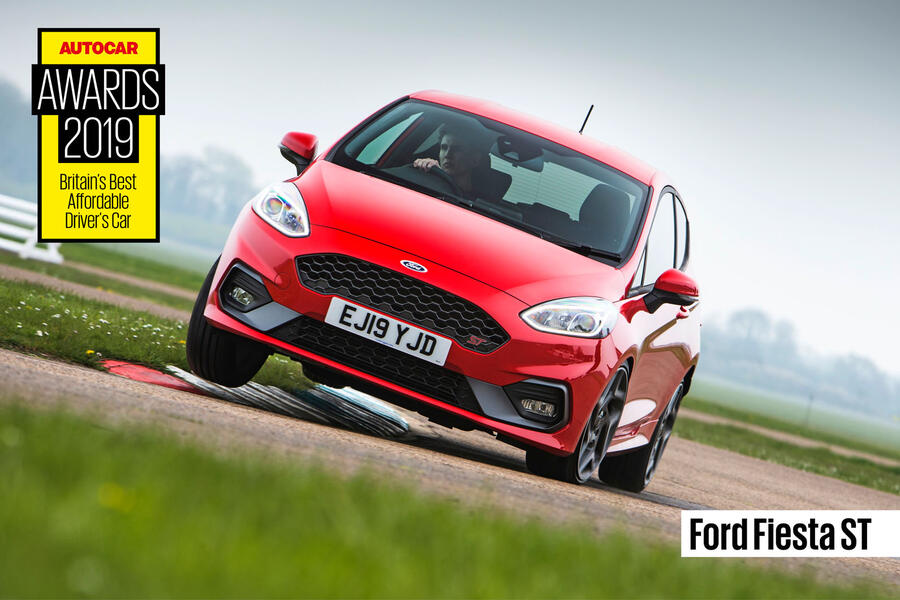 Proving itself top of the class in our track test and the challenging nearby roads was Ford's Fiesta ST. Despite making do with one fewer cylinder than its predecessor, this charming, spritely supermini continues the Blue Oval's line of successful forays into the hot hatch segment. 
Britain's best affordable driver's car – the showdown
Autocar's review of the Ford Fiesta ST
Best driver's car
McLaren 600LT
At the other end of the sports car spectrum is the McLaren 600LT, which beat back competition from Ferrari, Audi, Jaguar and Alpine to be named Britain's best driver's car in our yearly competition.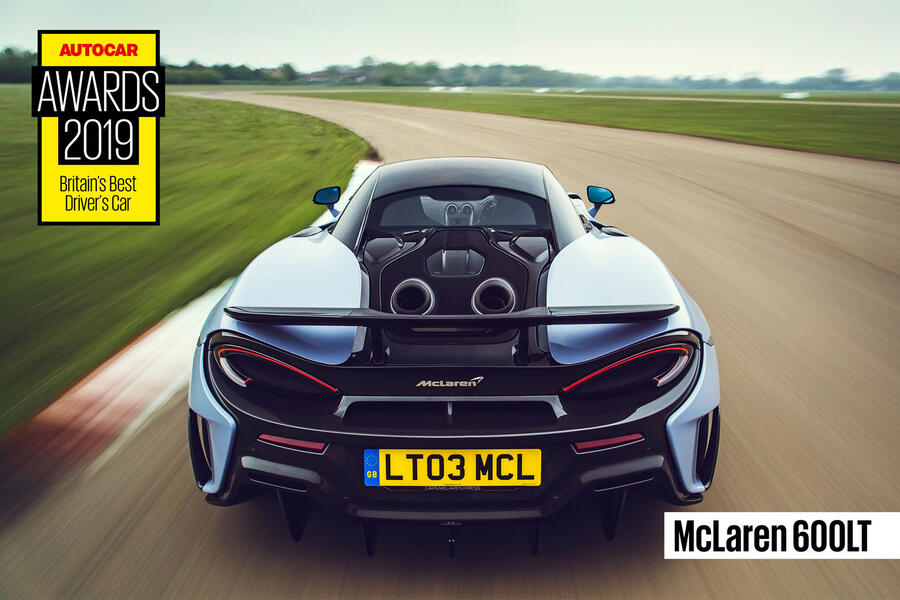 Woking's 592bhp marvel outshone each of its rivals, both at the challenging Anglesey Circuit and on the sublime Welsh B-roads that hosted our group road test. The competition was more fearsome than ever, making it all the more impressive that 2018 was McLaren's first victory. 
Read the results of our 'Britain's best driver's car' contest
Autocar's review of the McLaren 600LT
Innovation Award
Land Rover – ClearSight Ground View
Our innovation award goes to a piece of technology that managed to catch our attention even in this era of rapidly changing and increasingly astounding automotive technological achievements.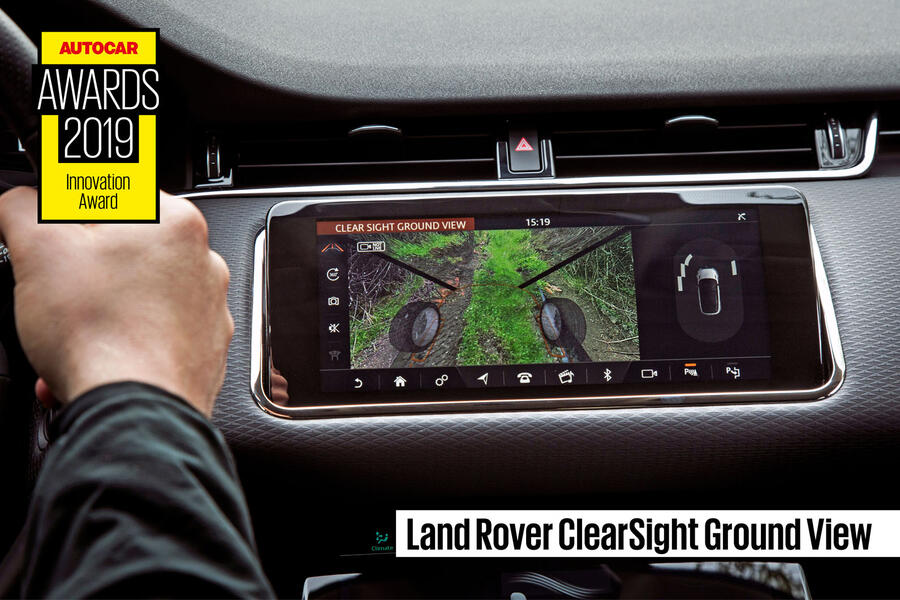 Land Rover's ClearSight Ground View, as pioneered by the new Range Rover Evoque, improves visibility by making the car's bonnet all but transparent. Not only will this be a huge help in challenging off-road environments, but it will also make life easier when negotiating tight city streets and cramped car parks. No competitor has anything quite like this, making the device an even more impressive step forward for Britain's biggest car manufacturer. 
Autocar's review of the new Range Rover Evoque
Motorsport Hero
George Russell, Williams F1
Our motorsport hero comes from the world of Formula 1 and is throughly deserving of the accolade after graduating to the pinnacle on merit alone.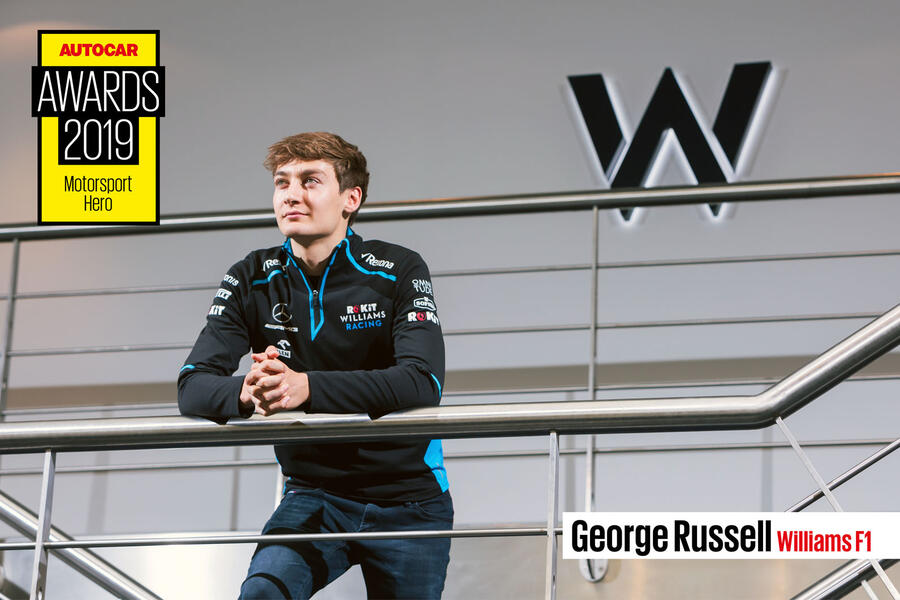 George Russell, at the age of just 21, has won a seat with one of the sport's most celebrated teams and is already a favourite candidate of Mercedes racing boss Toto Wolff to become a future F1 star. With astonishing success in the GP3 and Formula 2 categories already to his name, Russell may be struggling to show his potential with Williams this year, but has shown he has the potential to make a lasting impact on the world's leading motorsport series. 
Readers' Champion Award
Lotus Elise
From a shortlist of 17 potential victors, the Lotus Elise took home the readers' choice 'Icon of Icons' award. This year, we asked you to vote for the greatest car nameplate of all time – and tens of thousands of you took part.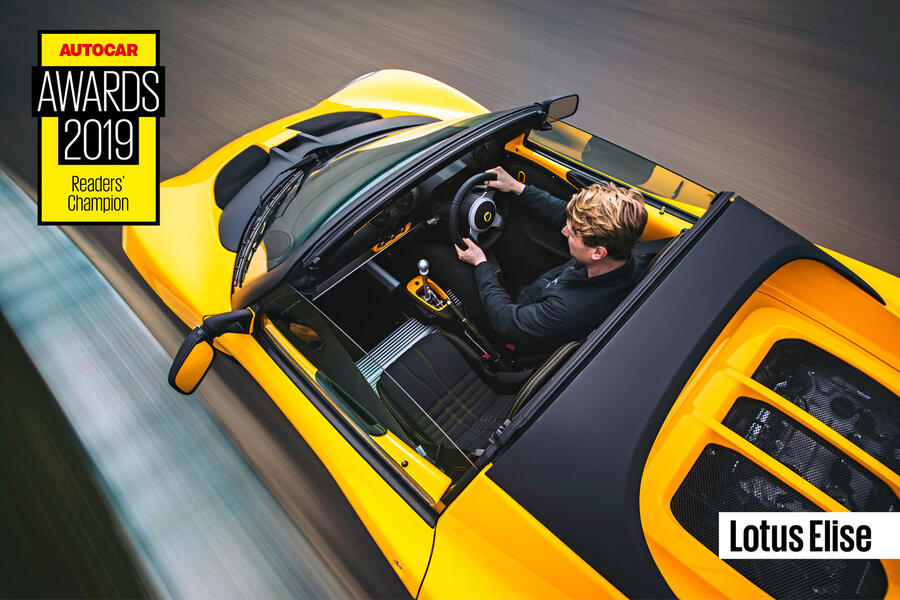 Single-handedly responsible for pulling Lotus back from the brink, the instantly recognisable two-seater has continuously evolved over the past 23 years and still offers class-leading handling and responsiveness in a package that's as interesting to look at as it is to drive.
Autocar's review of the Lotus Elise
Mundy Award for Engineering
Andreas Preuninger
Harry Mundy was the brilliant engineer behind Lotus's original twin-cam engine and the first Jaguar V12, so naturally the award bearing his name goes to someone responsible for some equally impressive feats of engineering. 
Andreas Preuninger heads up Porsche's GT division, and he has attained hero status with such gems as the Cayman GT4, the 911 GT3 and the 4.0-litre naturally aspirated flat six in the recently revealed 911 Speedster. 
Design Hero
Gilles Vidal 
Great design brings good cars to a much wider audience, and nowhere is that more true than at Peugeot. Gilles Vidal's penmanship has thrust the French manufacturer several years ahead of its rivals style-wise and is credited with turning the company's fortunes around. 
His new 508 is a masterpiece of automotive design, and the upcoming 208 hatchback looks set to top the supermini charts thanks to a well-proportioned stance and distinctive lines. It will come as no surprise, either, to learn that Vidal was the genius behind last year's retro-inspired E-Legend concept. 
Five-Star Cars
Autocar invented the road test more than 90 years ago, and ours remains the most thorough and exacting test in the industry.
It's exceedingly rare for our team of expert testers to deem a new car worthy of the maximum five-star rating, so the three machines that achieved the feat this year have achieved something truly special. 
Aston Martin DBS Superleggera
While it's surprising that the DBS Superleggera is Gaydon's first five-star car, that it excelled in our road test is anything but surprising when you get behind the wheel.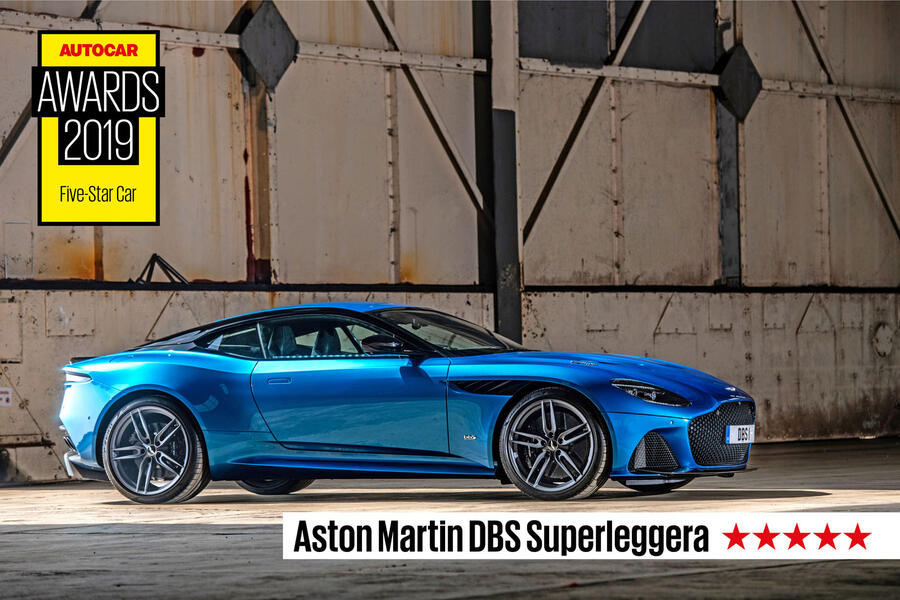 You have only to gaze upon the V12-powered flagship to gain an idea of just how special this car is, and its smooth ride, composed handling and knockout power delivery are just the icing on the cake. 
The five-star DBS Superleggera review
BMW 320d
In a road test that you can read in this week's magazine, the new BMW 320d proved itself capable of fulfilling the requirements of the broadest brief in motoring.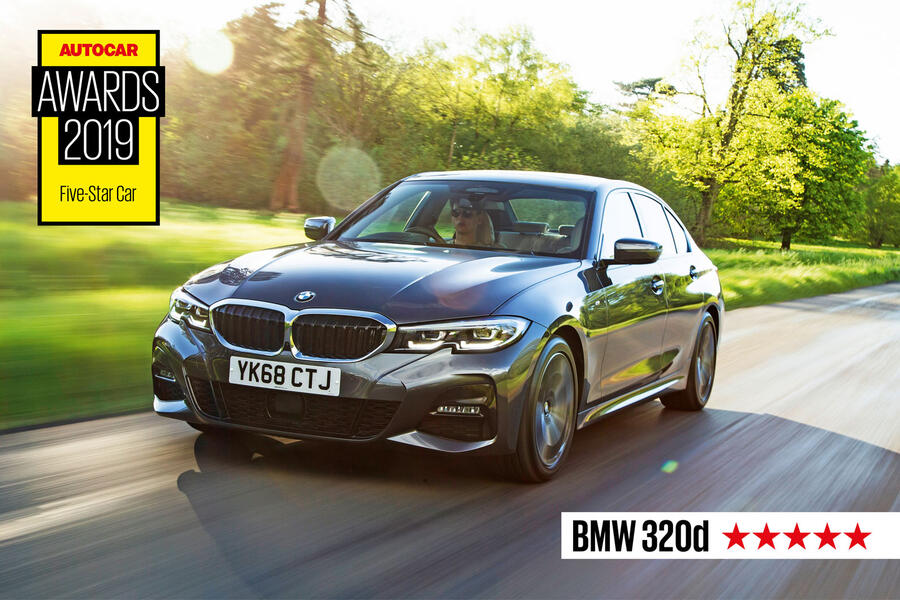 Class-leading performance with economy, superlative handling with comfort and cutting-edge technology with everyday usability: the 3 Series finds the perfect balance in every area imaginable, and it's thoroughly deserving of the same award bestowed upon its predecessor in 2012. 
All the details on BMW's new 3 Series
McLaren Senna
Naming a car after one of the world's greatest ever racing drivers creates certain expectations. Fortunately, the McLaren Senna makes good on each and every one of them.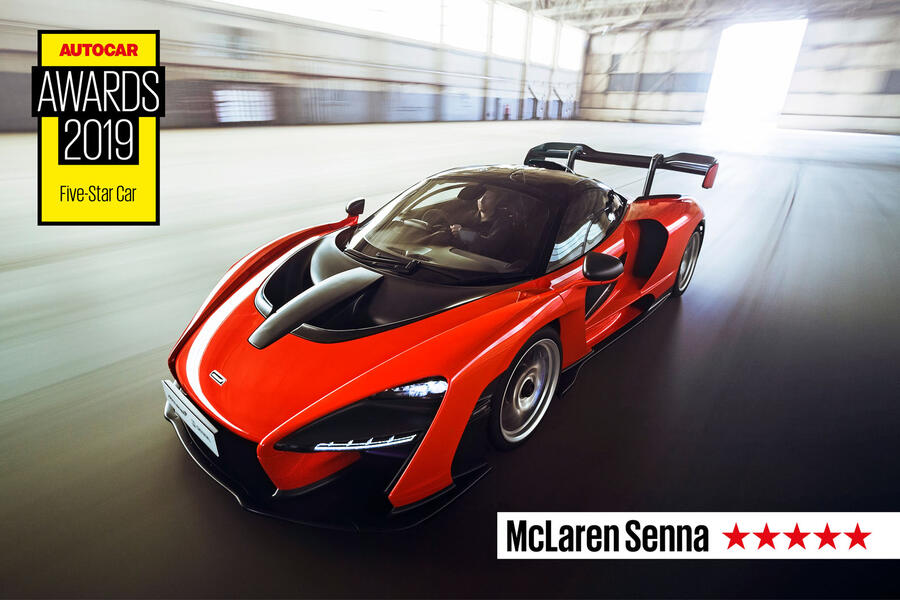 Hard to believe though it is, the Senna manages to strike a balance between blistering pace and actual usability on the road. The peerless hypercar has impressed us time and again with groundbreaking performance, high-speed stability, awesome braking response and an unmissable presence even when standing still. 
The Senna's star-studded review
You'll find further in-depth coverage of the Autocar Awards in this week's Autocar magazine. To subscribe, click here. To buy a digital copy, click here.
Source: – autocar
Autocar Awards 2019: the winners