Convertible clash: New BMW Z4 vs Porsche Boxster and Audi TT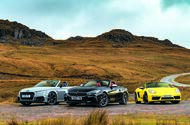 Is the Z4's combination of engaging handling, strong engine, plush interior and genuine sense of character enough for it to emerge victorious?
The Toyota Supra beat its German rivals when we tore up rural Wales. So can its soft-top sibling, the BMW Z4, follow suit?
It was always going to happen, wasn't it? Even in the middle of July, no more than a fortnight after temperatures around the UK soared into the mid-30s, it would seem that gathering a triumvirate of convertible sports cars together in North Wales is still too much like tempting fate. Or the weather gods. Or any other abstract concept you'd usually curse and swear at while shaking your fist at the sky, wondering why oh why, on today of all days, did it have to rain. How typical. 
But anyway, the new BMW Z4 M40i is one of the latest examples of the breed to touch down on our shores. Previous iterations of Munich's two-door drop-top haven't always been praised for being standout driver's cars, but BMW seems confident this third-generation model is the one to rewrite that history for the better. A Nürburgring lap time reportedly some three seconds quicker than that of its M2 stable-mate is certainly an encouraging sign. So too is the fact that the Toyota Supra – the BMW's brother from another mother – emerged victorious when we pitted it against the Porsche Cayman T and BMW M2 a few weeks back.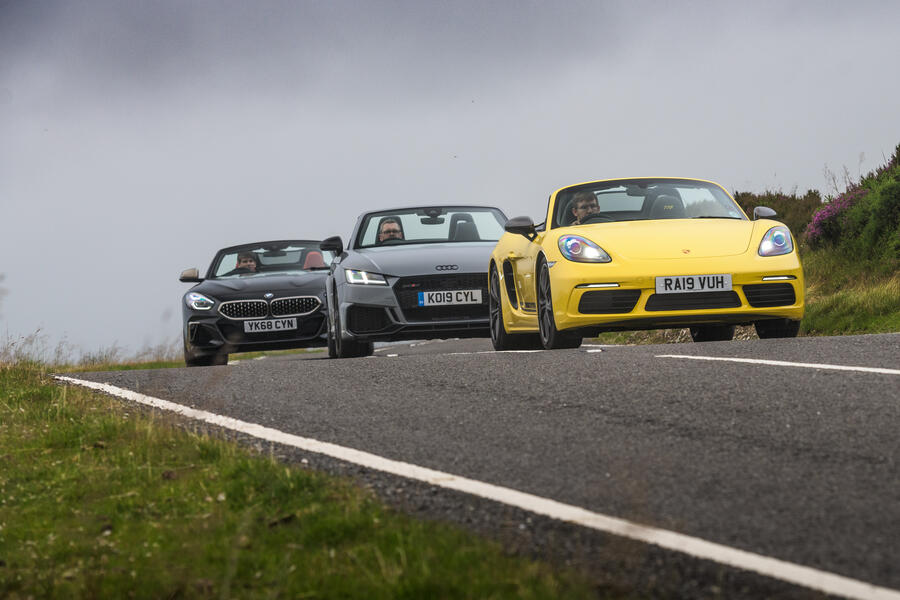 With all that in mind, the temptation to gather together a handful of ideologically aligned adversaries and head for the hills proved too strong to resist. Which is exactly why our test subjects – made up of said Z4, a Porsche 718 Boxster T and an Audi TT RS Roadster – are now moored in a windswept, soggy car park on the side of the B4391, completely saturated. 
But sitting here, watching snapper Olgun Kordal fish around in his bag for the correct lens as the fine, mist-like rain continues to drive home the fact that one of us should have checked the weather forecast, isn't without its perks. From this vantage point, you can appreciate just how motley this crew of convertibles really is, and soak in the diversity of the drop-top landscape in 2019.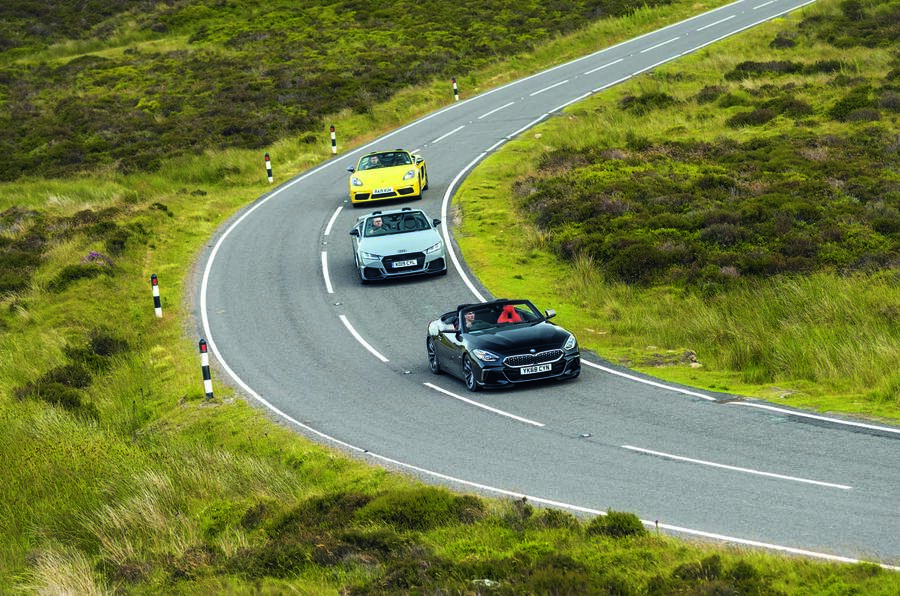 Of the three cars here, the BMW is closest to the archetypal convertible sports car. Its long, muscular bonnet houses a longitudinal 3.0-litre turbocharged straight six, which sends its 335bhp and 369lb ft straight to the rear wheels via an eight-speed ZF torque-converter automatic 'box and an electronic slippy diff. Adaptive M Sport suspension drops its ride height by 10mm compared with the standard Z4, and also throws in electronically controlled dampers. And unlike its predecessor, there's a folding canvas roof instead of a metal one, which helps reduce weight, lower the car's centre of gravity and – in my mind at least – lend it a bit more in the way of authenticity. That said, at 1535kg, it's still the heaviest car here. 
The Boxster, meanwhile, forges a different path. It is mid-engined, for starters, and its 295bhp 2.0-litre flat four does seem a bit weedy by comparison. But in T guise, this is supposed to be the sharpest, most focused version of the 718 Boxster breed (Weissach-fettled Spyder aside, obviously). As such, there's a torque-vectoring differential at the rear axle, a 20mm drop in ride height, active drivetrain mounts and Porsche's Sport Chrono package as standard. Modest weight-saving measures have also been employed, and at 1350kg the T is the lightest car here. Oh, and it's also the only one with a six-speed manual 'box, which is a very good thing.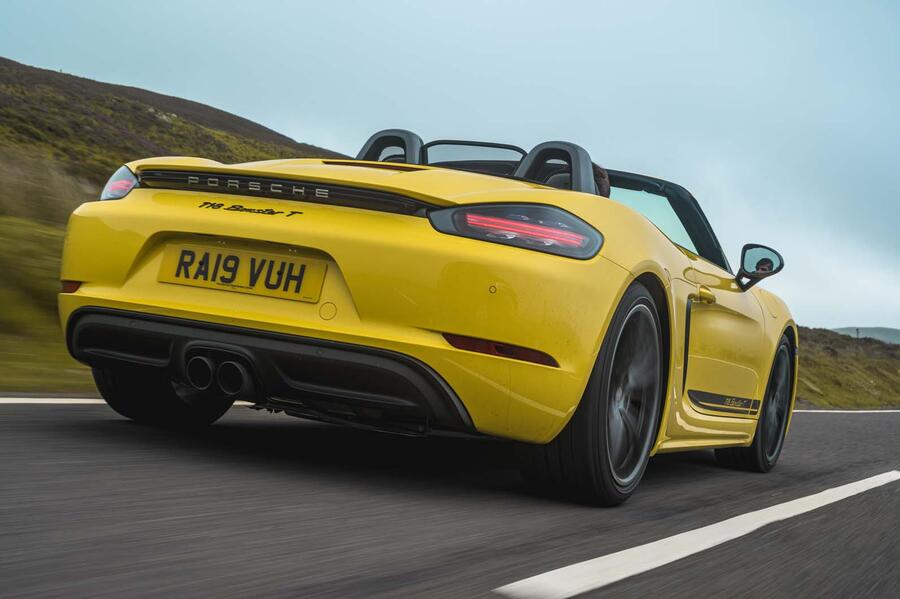 Compared with those two, the Audi is a bit of an oddball. First, it's based on the same platform as a Volkswagen Golf, and has been on the receiving end of a few style-over-substance-related criticisms over the course of its 20-odd-year existence. But even so, in RS guise the TT is also one of the more fascinating members of our trio. There's a front-mounted five-cylinder motor that churns out a fairly ludicrous 395bhp. It's also got four-wheel drive and a seven-speed dual-clutch transmission, and will hit 62mph from a standstill in a claimed 3.9sec. So in terms of straight-line thrust, it's the fastest car here. 
It feels like the fastest car here on these sodden Welsh roads, too; and its ridiculous turn of pace has as much to do with its unflappable willingness to simply stick to the surface of the road as it does the engine. You can brake later, turn in harder and get on the power earlier out of corners than you can in the other two, and simply trust that it'll sort everything out for you without coming a cropper.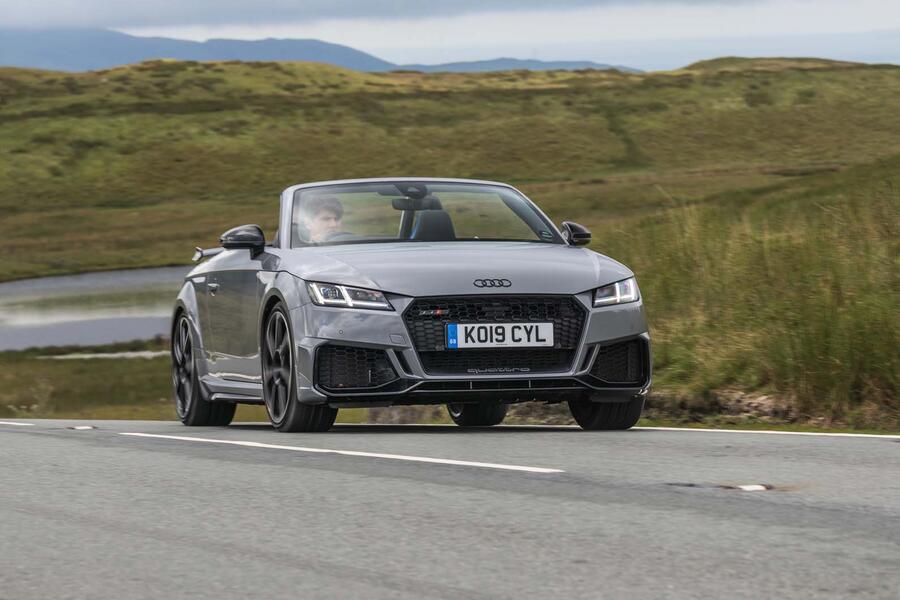 That engine is a massively characterful thing, too, and the ability to bask in the full glory of its thuggish, offbeat warble transforming into a serrated howl as you floor the throttle with the top down is an experience to be savoured. 
It's not the most responsive powerplant, mind. Despite its 354lb ft being available from as low as 1700rpm, things don't really start to get going until 3500rpm or so. Plant your foot below this point and the delay between input and response as the boost builds can be frustrating, particularly if you're not too hot on your shifts and find yourself trying to power out of a corner a gear too high. Get everything wound up, though, and this engine pulls with an alarming amount of savagery.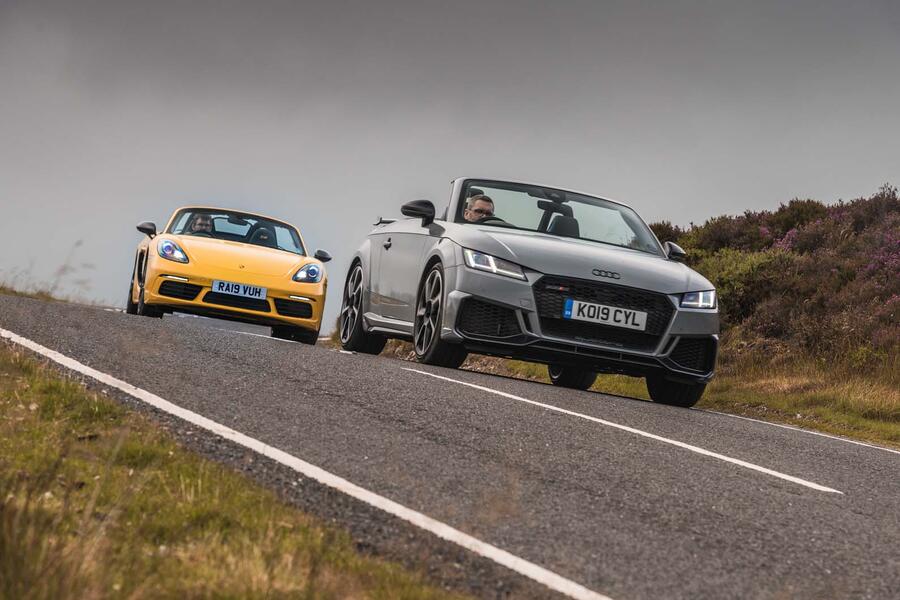 Impressive as the Audi is in the wet, as the weather starts to lift and the roads begin to dry out, its appeal begins to wane. You start to notice just how numb and distant the otherwise accurate steering rack feels. You also realise that while that all-weather traction is a wonderful thing when it's tipping down, in the dry it translates to a shortage of expressiveness that seems at odds with the sorts of thrills you'd expect from a drop-top sports car. You wouldn't accuse the Z4 of suffering from such an affliction, though. Next to the limpet-like Audi, the BMW demands far more concentration to drive quickly. You can feel its rear end shimmying around as you power through roughly surfaced or off-camber bends, while its thick-rimmed steering wheel lends the impression that you're man-handling rather than deftly guiding it through corners. That's not to say it doesn't change direction keenly, or that it feels in any way primitive in the way it handles, but there's a distinctly hairy-chested, street-fighter streak to its dynamic attitude that's difficult not to take a shining to. 
Admittedly, its body isn't as tightly controlled as that of the Audi and it makes a greater show of its weight through corners, but it's no deal-breaker. If anything, its supple, more forgiving set-up makes the Z4 the car you'd choose for long-distance stints – and it certainly dispatched the long drive up from London with little bother. 
And while its 3.0-litre straight six might not quite match the TT's five-pot for outright character or performance, it's the most responsive of the two by a mile. It's coupled with a gearbox that's seems happier to respond to a tug of the paddle shifters than the Audi's twin-clutch arrangement is, too. But even if your concentration falters and you allow the revs to drop off, its well of torque is there as a safety net. All 369lb ft of its muscle is available from 1600rpm, and it feels it. This is an engine that's happy to pull from any point in the rev range, right up to the redline. 
The same can't be said of the Boxster's engine, which can feel even more lethargic and strangled than the Audi's. There's very little low-down urgency present here, and progress from this point feels noticeably stunted. It's not until you get the crankshaft spinning at speeds well above the 3500rpm mark that it starts to come to life, but even then the accompanying soundtrack is nothing more than a flatulent drone.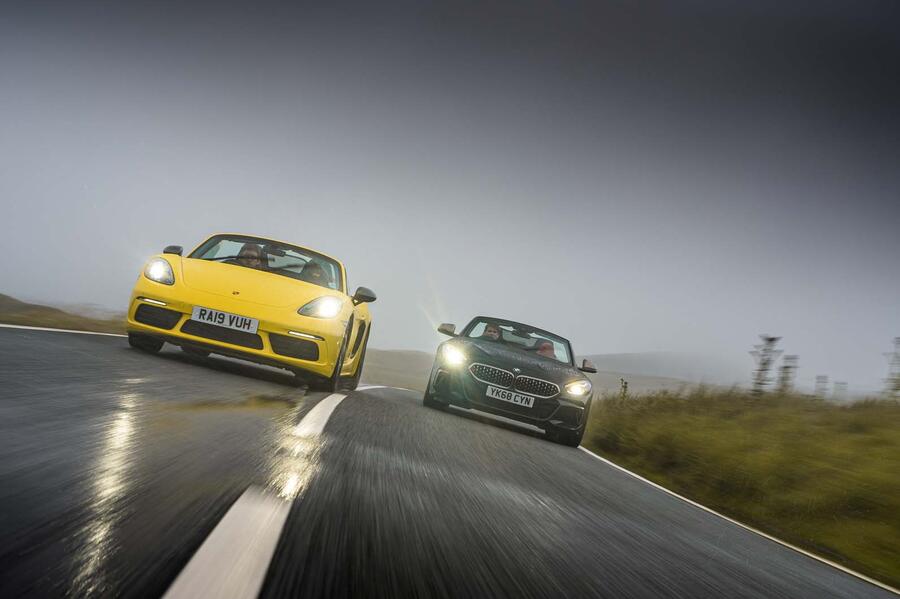 Which is a pity, really, because the Boxster T is easily the sharpest-handling car here. In terms of its responsiveness, its balance and its fleet-footedness, it's simply on another level. The dainty steering wheel paints a far clearer picture of how the tyres are interacting with the road than the other two, and at all times its chassis feels as though it's more in tune with both your inputs and the Tarmac beneath you. 
With its adaptive dampers in their firmest setting, the car can feel a bit too tightly controlled for the roads we're on, but slacken them off and it breathes with the topography under-wheel in a graceful, elegant fashion. The short throw of its manual 'box is wonderfully tactile and a joy to engage with too, so the fact you'll need to interact with it so much to keep the engine on the boil is at least one silver lining to its asthmatic performance. It's an utterly flattering sports car, this – adjustable, communicative and engaging to the last. 
But you know what? Of the three, I don't think it'd be the car I'd go for if it were my money on the line. While it's undoubtedly the sweetest to drive of the three, as far as drop-tops are concerned the theatre that comes from actually driving them is just as important. And on that front, the Boxster's characterless engine simply isn't up to the task. If it had a bit more punch, a bit more soul – perhaps even a bit more in the way of cylinder count – it'd probably walk this test. As it stands, it just misses out.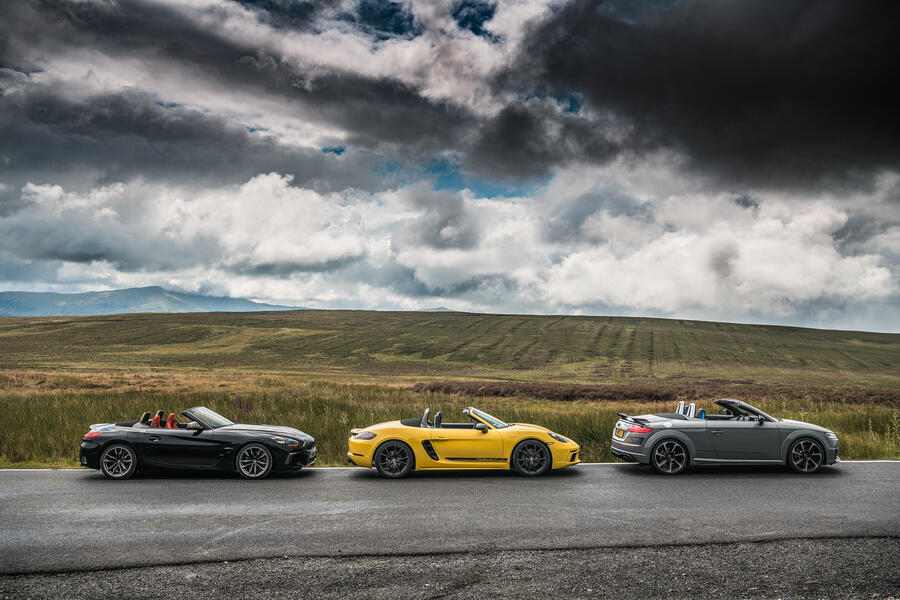 Missing out by a greater margin is the Audi, which is problematic because it takes things too far in the opposite direction. The TT RS has the performance and makes the right noises, but you feel so far removed from the task of driving the car that it's difficult to form anything close to a meaningful relationship with it. And unlike the BMW, and particularly the Porsche, you also feel as though you're perched on top of the car rather than in it, so it's difficult to ignore those hatchback underpinnings. 
It's the BMW's ability to strike a balance between these extremes that sees it clinch victory today, if only by the skin of its teeth. The Z4 has the engine, plus the everyday refinement, that would make it an easy car to live with on a daily basis. Its cabin is the smartest of the bunch, too, and carries with it the most premium appeal. The BMW may not have the clinical, delicate finesse of the Porsche, but it excites in its own characterful, heavy-hitting way that feels genuinely authentic and is absolutely endearing. Put it this way: the Boxster might be the car you'd take for a drive, but the Z4 is the one you'd take for a fang. You'll have to forgive the Antipodean slang, but it gives you a good idea of what separates these two very different sports cars.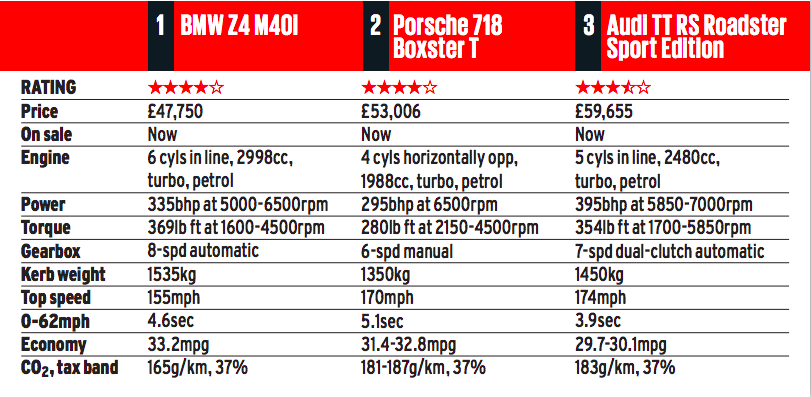 Buy a used one, from £1000 up
Audi TT: Buy the desirable Mk1 now and you can get those Bauhaus-inspired looks and that radical interior from as little as £1000 – and those prices can only go one way. It still feels pretty fresh to drive, too. The Mk2 is the way to go if you want an even better driving experience – expect to pay upwards of £4000 for the privilege – while the Mk3 is a peach in all its forms, although you'll need at least £10,000 to join the party. TTs are tough and timeless with proven mechanicals, but beware – parts are expensive.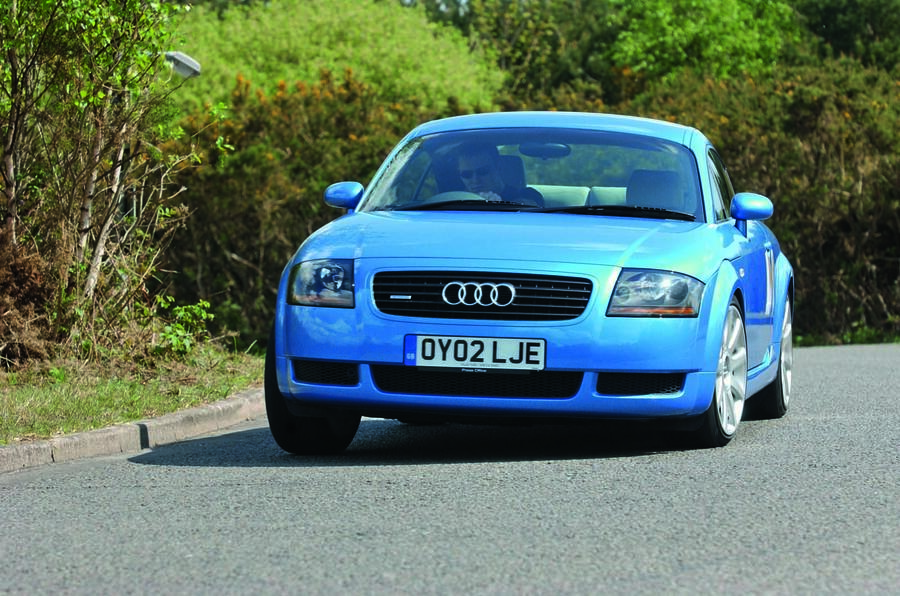 Used Car Buying Guide: Audi TT
Porsche Boxster: With its engine in the proper place – and water-cooled to boot – the 986 Boxster delighted punters but upset purists. It was temptingly cheap, too, and entry to the flat-six club now starts at as little as £3000, but watch out – condition is king and Porsche parts are incredibly pricey. The replacement 987 starts at £8k and adds more power and an upgraded interior, while the rigid 981 was larger, lighter and had electrically assisted steering; it was the fastest of the lot and immense fun.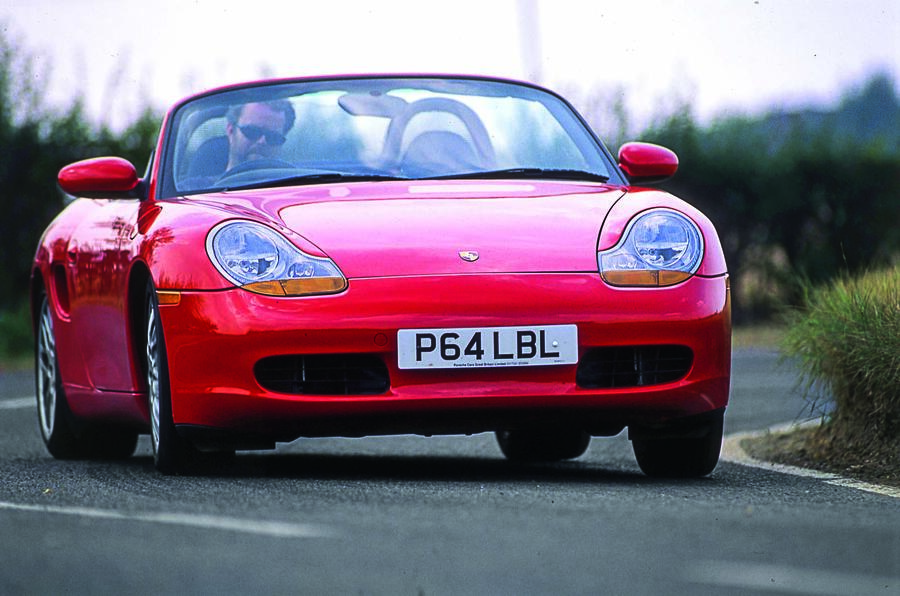 Used car buying guide: Porsche Boxster
BMW Z4: If the Boxster and the TT are a little too sporty for your tastes, take a look at the Z4. Prices cover all bases. The more affordable 23i and 30i models have sweet-sounding six-cylinder engines, but after 2011 these were replaced with efficient but rather dull four-cylinder ones to cut CO2 emissions. Try an M Sport version before committing to buy one because it will have a punishing ride. Also, some owners have experienced issues with alloy wheels cracking, so inspect them carefully.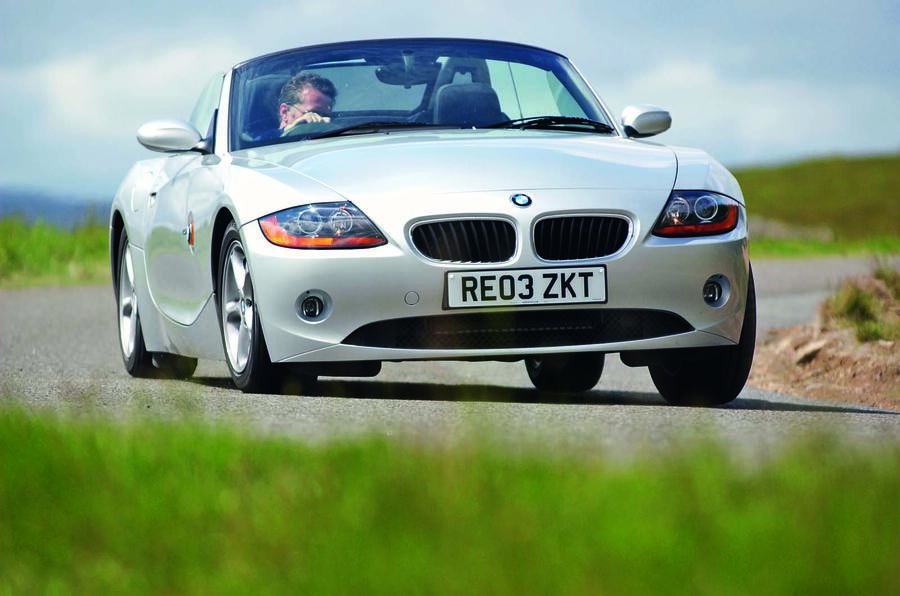 Used car buying guide: BMW Z4 M
What's next for the Audi TT?
While the Audi may not have won top honours in this particular group test, the fact it's still around to participate at all is to be celebrated. 
You see, it seems the TT's days could well be numbered. Audi has suggested that the two-door sports car will be replaced by a new, 'emotive' model in the next couple of years, and it wouldn't be surprising if that took the shape of an electric sports car. 
Audi directors committed to TT's survival
The question is: will the TT be missed if it is consigned to the history books? While it was something of a design landmark when it first arrived in 1998, in 2019 I'm no longer sure that's the case. And I don't think many people will miss it for the way it drives either. 
What would be missed, though, is the five-cylinder motor used by the TT RS. How many manufacturers still produce high-performance five-pots these days? None I can think of. So hats off to Audi for its perseverance – long may it last.
Read more
Clash of the coupes: Toyota Supra meets BMW M2 Competition and Porsche 718 Cayman​
Matt Prior: we need to save the Audi TT
Top 10 best convertibles and cabrios 2019​
Source: – autocar
Convertible clash: New BMW Z4 vs Porsche Boxster and Audi TT