Lexus ES revealed as driver-focused £35,150 GS replacement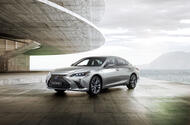 Seventh-generation ES is first to enter Europe, with design and handling tailored for that market
Lexus will replace its low-selling GS with the new ES, which costs almost £1000 less than the previous entry-level GS at £35,150. 
The ES made its world debut in Beijing before going on sale in Britain from January 2019. Orders open in October for UK customers, although pre-orders are being accepted.
Three specs are available on the new-to-Britain ES – the entry-level, ES-badged car, ES F Sport at £38,150 and range-topping Takumi, priced from £45,650. Takumi gets a power bootlid with kick sensor, 12.3in infotainment screen, premium sound system, heated and reclining rear seats and an around view monitor, while F Sport adds sportier styling, 19in wheels and adaptive sports suspension to the entry-level ES package. Electrically adjustable, heated front seats, 8in infotainment screen and parking sensors are standard from bottom-spec upwards.
While it's the first to enter Europe, this ES is actually the seventh-generation model, with its forebears having focused on the US market. The new car is tasked with drastically increasing sales in Europe, so it has been designed and engineered to appeal to drivers in this region.
Part of the motivation for this decision will no doubt be the success of European rivals to the ES, such as the BMW 5 Series, which is renowned for its good handling and strong performance. Lexus has therefore engineered the new ES to be significantly more driver-focused than its predecessors.
It is built on Lexus's Global Architecture-K platform, which is a front-wheel drive layout said to offer significant improvements to structural rigidity, as well as more freedom to create a sleeker design. High-tensile steel is used in higher volume than before, helping to save weight, although the car has grown longer and wider compared with its predecessor, while sitting lower.
The new ES features multi-link rear suspension and has a V-brace behind the backseats to enhance handling and precision. ES F Sport models add adaptive damping to this technical layout. It can be manually adjusted through a Drive Mode Select system.
Drive comes from a hybrid powertrain that's based on an all-new 2.5-litre four-cylinder petrol engine. The system is rated to 215bhp and comes with claims of 60.1mpg combined. Lexus said the powertrain is also more natural in its power delivery, thanks to new control software that provides torque in a seamless way.
Pure petrol versions will also be available in ES 200 and ES 250 forms, but these are expected to make up a tiny proportion of sales in Britain, where Lexus customers tend to opt for its electrified models.
Lexus will equip the new ES with its latest safety technology. Driver assist features include a pre-collision detection system that can spot cyclists and pedestrians, as well as a two-stage high-beam system with 24 LEDs that can automatically switch beams off to avoid dazzling oncoming drivers.
Much of the car's exterior design takes inspiration from Lexus' LS flagship, although the ES Sport model also has the LC's coupé-like features, such as 19in wheels that share a similar design. The ES's interior has a new dashboard with a clear driver-centric focus. It comes with a 12.3in infotainment system with a transmission tunnel-located touchpad and smartphone-integrated voice-recognition technology.
The ES replaces the GS, which goes off sale this month. Only 428 GS models were sold in Britain last year, meaning it achieved just 10% of the success of Lexus's best-selling model here, the NX SUV.
Lexus sold almost 75,000 units in Europe in 2017. The Toyota-owned luxury brand targets 100,000 sales per year by 2020.
More content:
Ford Fiesta van launched with ST-Line-inspired top model
Volkswagen Golf GTI long-term review
Source: – autocar
Lexus ES revealed as driver-focused £35,150 GS replacement