New BMW X3M and X4M get 503bhp Competition version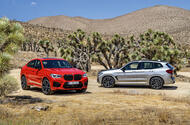 Two new SUVs aim to deliver M3 and M4 driving experience, according to BMW
BMW M has added two new SUV models to its burgeoning line-up in the form of the X3M and X4M.
Set for UK delivery in September following a public debut at April's Shanghai motor show, they are among seven new dedicated M models planned for 2019. The M8 Coupé, Cabriolet and Gran Coupé and new X5M and X6M models are all also due by the year's end.
"Our philosophy from the start was to deliver an M3 and M4 driving experience, but with the added assurance of four-wheel drive and a slightly higher seating position," said Lars Beulke, BMW M product manager. "We originally referred to them internally as the M3X and M4X."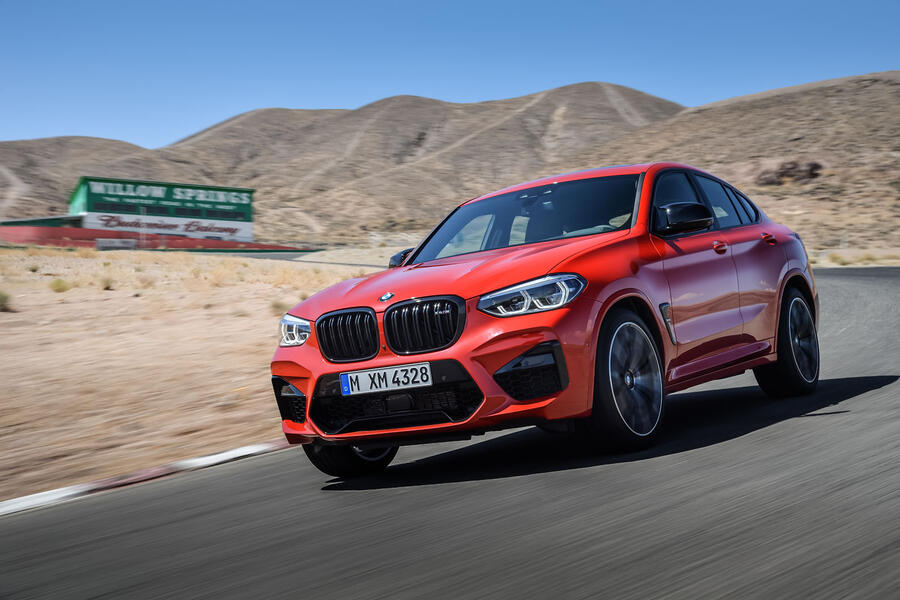 Following the strategy taken with other M models, the X3M and X4M will be sold in both standard and Competition guises from the outset. Together, they take aim at the Mercedes-Benz GLC 63 and Porsche Macan Turbo with a new twin-turbocharged 3.0-litre petrol engine known internally as the S58.
Based on the B58 engine already used by the X3 and X4 M40i, the inline six-cylinder unit delivers 473bhp and 442lb ft in standard form and 503bhp and 442lb ft in the X3M and X4M Competition – the latter of which receives a louder M Sport exhaust as standard.
Power is channelled to all four wheels via an eight-speed torque-converter automatic gearbox and a variable M xDrive four-wheel-drive system, with an electronic rear differential and torque vectoring system. The Competition versions of the X3M and X4M are said to achieve 26.9mpg and 26.7mpg combined respectively.
There is no pure rear-wheel-drive mode, with maximum traction the priority. Base cars come with 20in wheels shod with 255/45 (front) and 265/45 (rear) tyres. Competition models feature 21in rims with 255/40 (front) and 265/40 (rear) tyres.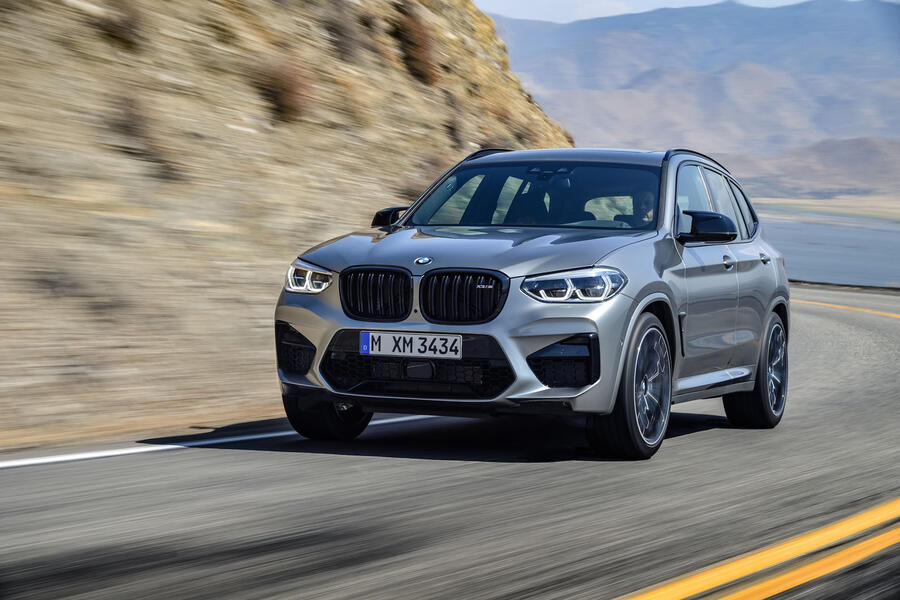 The standard X3 and X4's MacPherson strut (front) and multi-link (rear) suspension has been heavily reworked, as have the variable ratio steering system and the brakes, which use 395mm steel discs and four-pot calipers up front and 370mm steel discs with floating calipers at the rear.
Beulke said a significant amount of engineering was focused on stiffening the front-end structure of the standard SUVs to improve agility and steering precision. To this end, the X3M and X4M receive a sturdy strut brace across the front suspension towers as well as additional bracing below the engine.
The fastest model – the 1970kg X4M Competition – is capable of 0-62mph in 4.1sec and reaching a governed top speed of 155mph, with an optional M Driver's package allowing the limit to be raised to 177mph.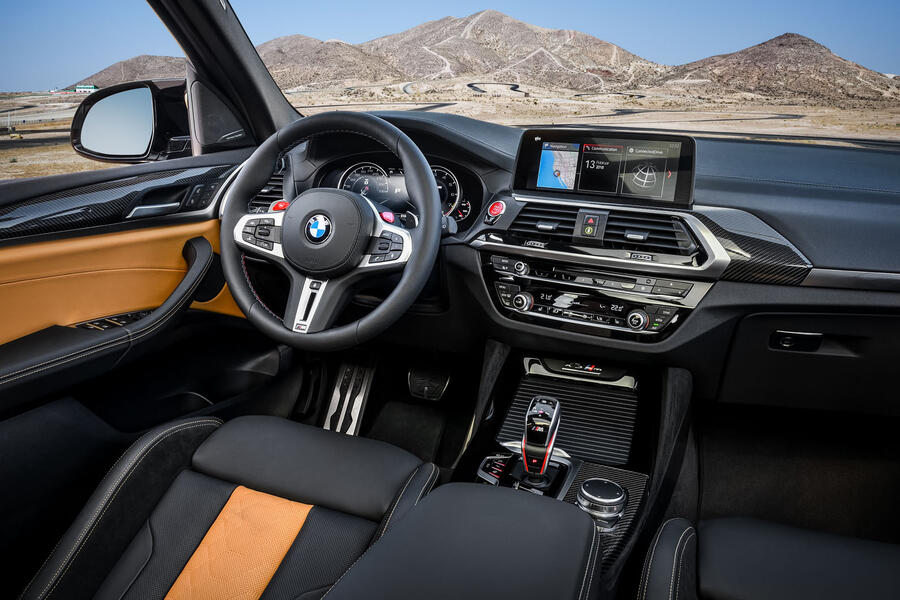 The X3M and X4M were not conceived for off-road driving, but Beulke said both perform "remarkably well" away from Tarmac, thanks to the locking effect of the rear differential. The new S58 engine comes with efficiency-boosting tech including brake energy recuperation. The most economical of the new M models, the 1970kg X3M, is rated at 26.9mpg combined and emits 239g/km of CO2.
The X3M and X4M receive a number of traditional BMW M styling changes including a heavily structured front bumper with larger cooling ducts and a honeycomb insert, an M-specific grille, more prominent sills underneath the doors, M Sport wing mirrors, a larger spoiler element atop the tailgate and a new rear bumper bookmarked by four round tailpipes.
For added effect, the X3M Competition and X4M Competition come with an optional M carbonfibre package with blackened details. Inside, there is the latest M Sport multi-function steering wheel, instruments, gearlever and seats, with M-specific trims and upholstery.
BMW has announced pricing of the Competition versions, with the X3M starting at £77,070 and the X4M starting at £79,990. 
READ MORE
2019 BMW 3 Series Touring could bring first M3 estate
BMW M face-off: M3 CSL vs M2 Competition
BMW plots supercar to take on McLaren
Source: – autocar
New BMW X3M and X4M get 503bhp Competition version