Tesla Model 3: European pricing and WLTP range revealed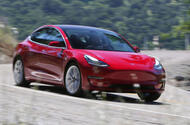 Entry-level electric saloon is on display in UK dealerships; RHD deliveries scheduled for mid-2019
Tesla has opened the order books for European customers of its Model 3 saloon, revealing previously-unconfirmed pricing and range details. 
UK cars aren't expected until the middle of next year when right-hand drive production commences, but prices published in Spain, Sweden, Netherlands and France suggest the entry-level EV will be available from £50,000, falling to £46,500 after taking into consideration the UK government incentive for zero-emission vehicles.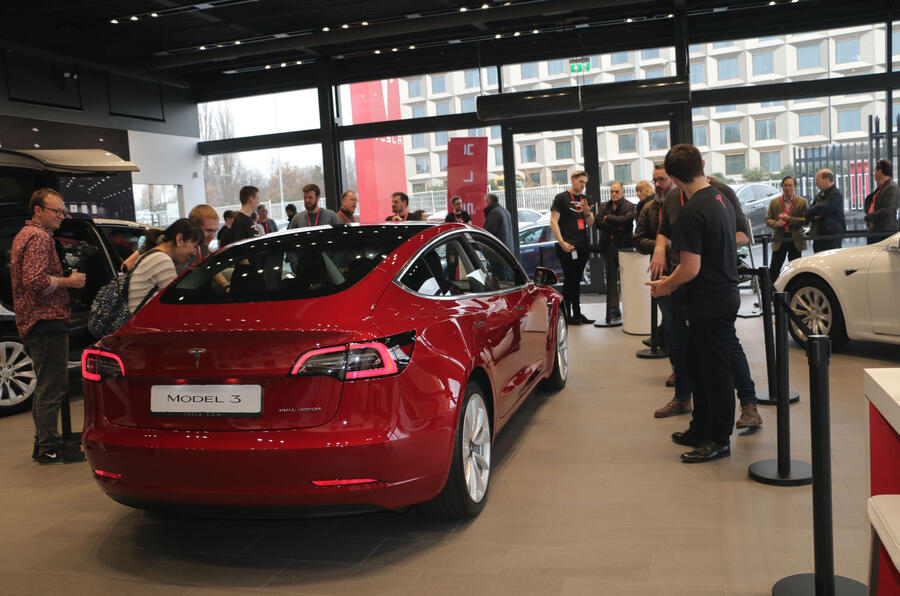 The Model 3 has also been shown in UK dealerships for the first time, with demonstration models on display in the company's London Park Royal and Manchester Stockport dealerships. 
The Model 3 is capable of covering 338 miles on a single charge, according to new WLTP testing methods. This figure applies to the four-wheel drive Long Range variant, which available with 50kWh or 75kWh batteries.
Currently, only the standard and performance Long Range options are available in Europe, with subsequent cheaper variants expected to be available from around £30,000 in the UK. That will pitch the Model 3 against the likes of the Audi A4, BMW 3 Series, Jaguar XE and Mercedes-Benz C-Class in terms of pricing and size.
Model 3 production hit 5000 cars a week in the last week of June 2018, just meeting Tesla's self-set output deadline for that number of cars to be made in a week by the end of the second quarter of 2018.
It required the construction of a temporary 'tent' outside the firm's California factory, to hold another production line and increase output.
It's estimated that around 500,000 orders have been received for the Model 3, which costs from $35,000 (£26,500) in the US before incentives. 
The 50kWh model hits 0-60mph in 5.6sec and has a top speed of 130mph. The Long Range model can do 0-60mph in 5.1sec and has a 140mph top speed, costing from $44,000 in the US. 
The Model 3 is more than 400kg lighter than the Model S, so it could be quicker than the Performance version of that car.
Model 3 owners will not get free access to the Tesla Supercharger high-speed charging system, with the company planning to charge for electricity as demand grows and it requires more investment to build up the network of chargers.
However, if Tesla hits its planned production of 500,000 cars a year – something it has faced an uphill struggle to achieve until the recent 5000-car milestone – analysts predict that it will outsell BMW, Mercedes-Benz and Lexus in the US.
Prospective Tesla Model 3 owners tell us why they're buying one
Tesla launched its Semi lorry and a new Roadster last year, following an injection of $1 billion (around £800 million) worth of investment into the company – something Musk has previously said would help the company meet high demand for the Model 3.
Tesla has raised capital to help production and ease the financial risk associated with the production run. This has led to a rise in its share price and has been further boosted by reports of its future model plans, including the Model Y compact SUV, according to New York financiers.
However, some analysts still question Tesla's ability to ramp up production to meet its demand. The brand is yet to make a profit, although the latest reports suggest it could do so later this year.
Read our Tesla Model X road test
Source: – autocar
Tesla Model 3: European pricing and WLTP range revealed