Throwback Thursday: 1966 Alpine A110 first drive
The new A110, with which Alpine awoke from a 20-year dormancy, is the best car we've driven in years. Did its inspiration receive similar praise?
It's very rare that Autocar bestows a five-star rating upon a car. But our praise for the new Alpine A110 following our first experience with it was nothing short of gushing.
This dainty two-door sports coupé roundly beat a host of rivals, most prominent among them a Porsche. Nearly everything is right about this car; its design is pretty, rather than aggressive; and it politely declines to play the ridiculous game of power-and-acceleration figure one-upmanship, instead focussing on weight reduction, with a performance suited to everyday driving and handling sublimely suited to the roads its maker shares a name with. The only quibble among enthusiasts is its refusal of a manual gearbox, although this at least offers a silver lining.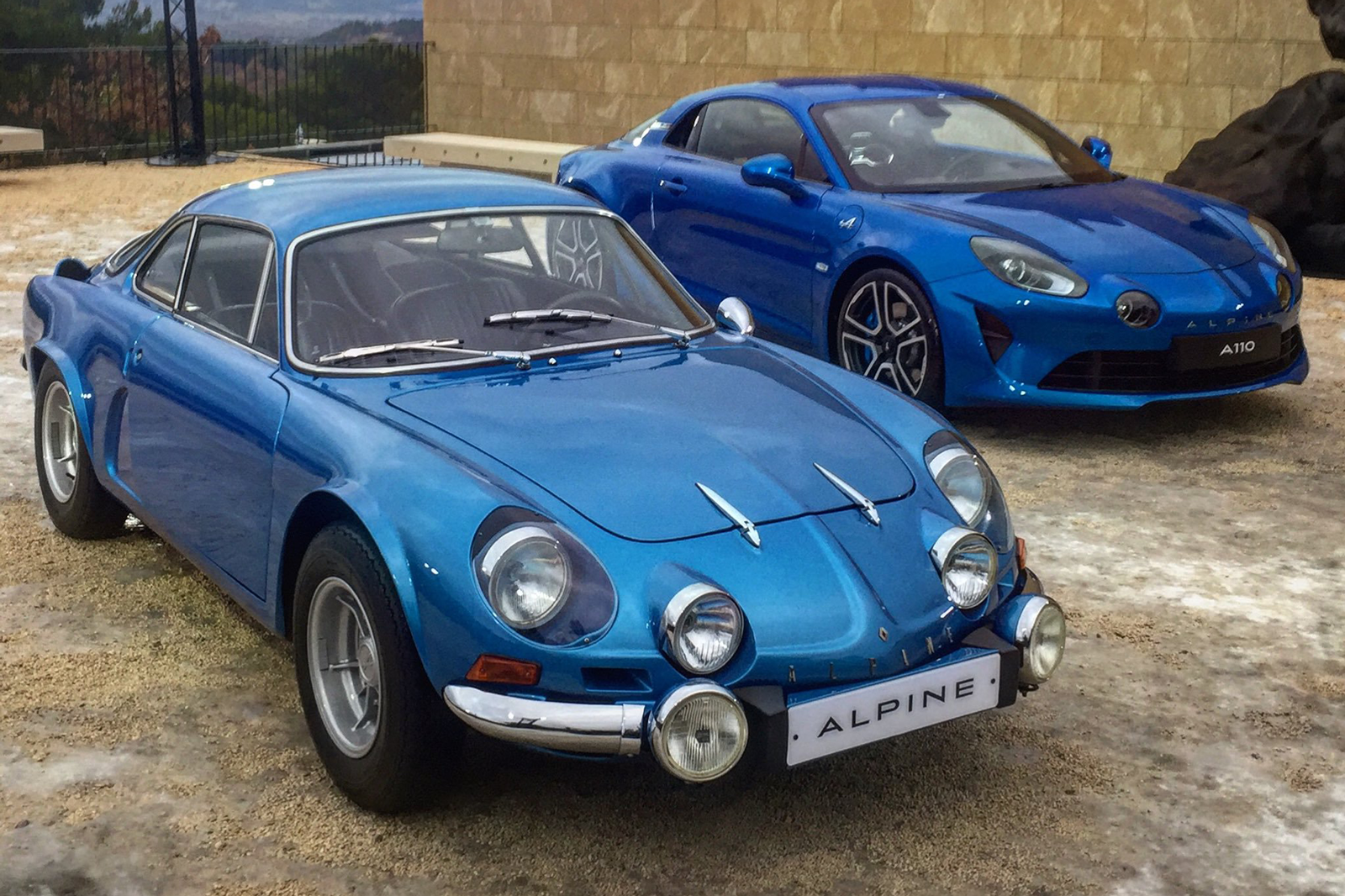 These principles reflected those of the original Alpine company. Its founder, Renault dealer and racing driver Jean Rédélé, had a simple philosophy of innovatively designed sports cars that were mechanically simple yet competitive, clad with lightweight, handsomely sculpted styling, and for a sensible price.
His first model, which launched the brand in 1955, was the A106, based on and using the same 21bhp 0.7-litre engine as the Renault 4CV budget hatchback. This was replaced by the A108, developed from the Renault Dauphine and using the 37bhp Gordini version of that car's 0.8-litre engine.
The next car was the A110 berlinette. It was evolved from the A108 but employed components from the new Renault 8 family hatchback, while power came from a 51bhp 0.9-litre version of Renault's ubiquitous straight-four Cléon-Fonte unit.
This model was Alpine's big hit, both commercially and in terms of racing, most notably in rallying, in which it ran away with the inaugural World Rally Championship in 1973, but also in endurance racing, hillclimbing, ice racing and rallycross.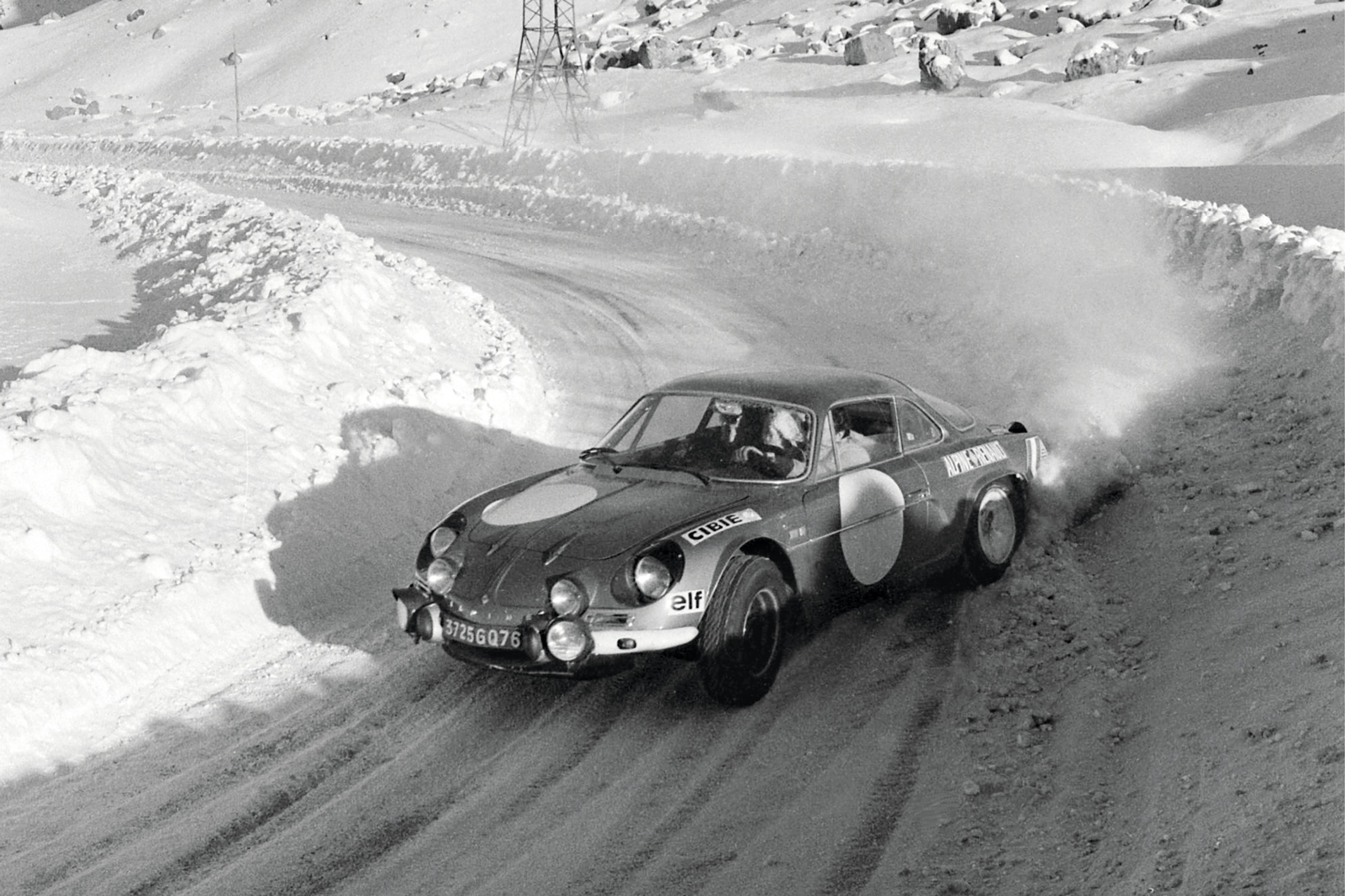 A variety of engines were used and styling changes made over the A110's life, and our first drive of it came on 17 June 1966, in 1300 spec.
This version also used a Cléon-Fonte, but tuned by Gordini, with a 1.3-litre capacity. "This engine is a clever conversion of the 8's," we explained, "with inclined pushrods working opposed valves in hemispherical combustion chambers and a novel kind of dual ignition from one plug per cylinder feeding twin passage, like a gas pilot light." Even in our spirited testing, this returned an "outstanding" 28.3mpg.
Our test car was something a little bit special, however. A production version of the 1300 was introduced in 1966, with outputs of 102bhp and 86lb ft, but ours probably had slightly different specs, because we drove a Sports 1300 racing prototype, built three years prior (which is why it doesn't have the A110's famous quad headlights). In fact, seemingly unknown to Autocar's tester, this very car, 93-PF-75, competed in the 1963 Tour de Corse rally in Corsica at the hands of Pierre Orsini, who had won the race in 1962 driving a Dauphine.
This A110, standing just 3ft 8in high, weighed a mere 685kg; a 0-60mph time of 9.1sec was therefore achievable, while top speed stood at 125mph.
Autocar's Geoffrey Howard wrote: "I climbed in behind the wheel, turned the key and jiggled the throttle. A deep crackle sprang to life behind my right shoulder and settled to a steady beat at 1400rpm. A syrupy aroma slowly grew stronger which immediately spelt 'race track' and I knew this car was practically a racer.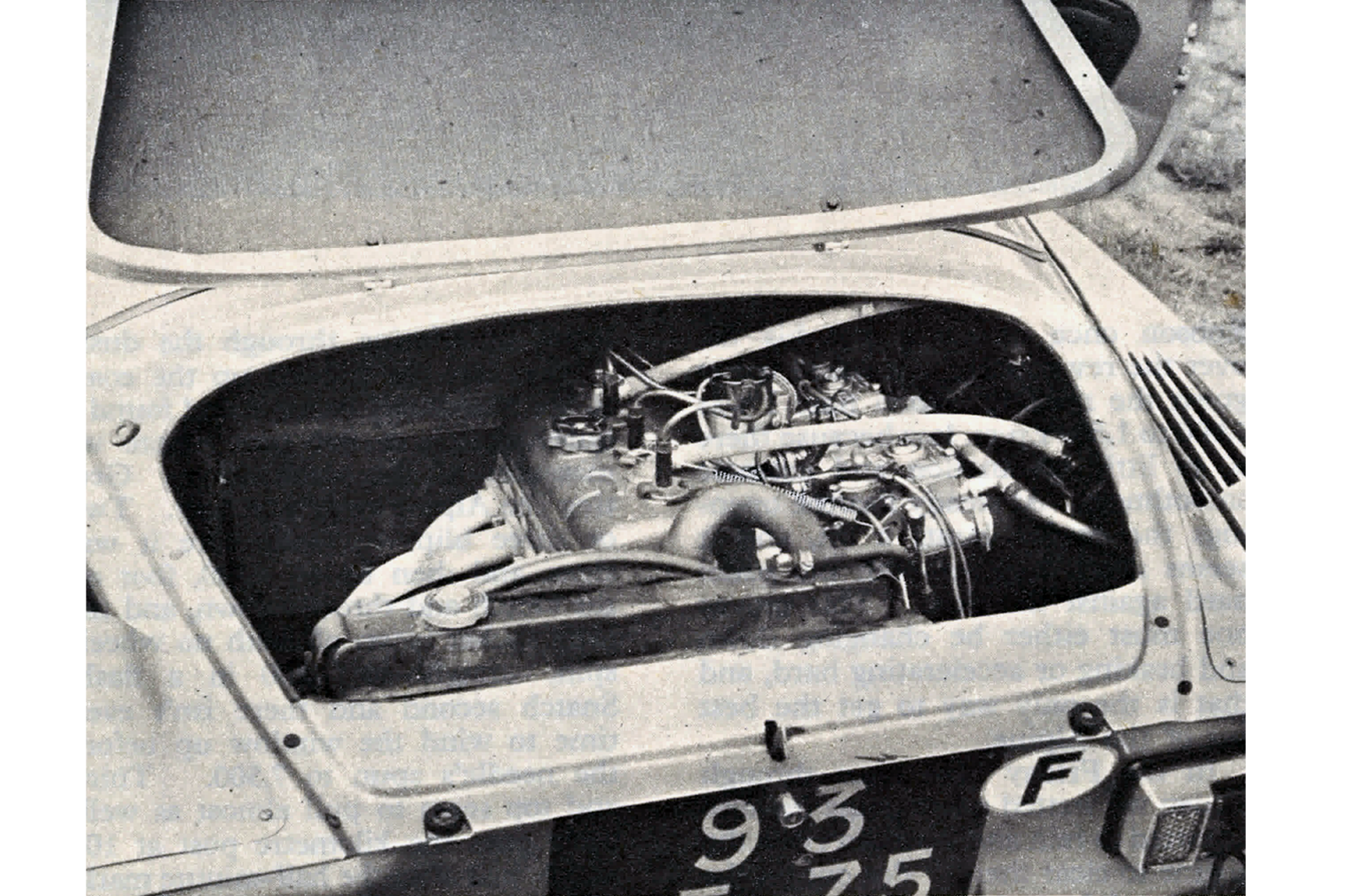 "For a start, it fitted me like a glove, and even though I was lying back at about 35deg, the vision was perfect. Then it transmitted all the 'right' senses to the 'right' nerves in my psyche, from its rather 'nervous' steering response to the urgent throb of the exhaust that crescendoed to its peak (and beyond) with a crispness only found in racing engines.
"Below 3000rpm, there is little torque, but the engine still picks up well from only 2000rpm. At about 4500rpm, the punch really comes in with a vengeance and from then on the needle fairly flies round the rev counter scale in any gear but top, and even in the top there seems no limit but the driver. On the dial there is an amber warning from 5500rpm to 6200rpm, although the peak is at 6900rpm, and solid red from there to 8000rpm.
"The way the engine runs and revs is quite incredible. As a test, my passenger once or twice put his fist over the rev counter and asked me to guess the reading. Each time I was 1000 to 15000rpm low because there is there is so little commotion and extreme smoothness. At steady throttle openings, the engine hunts a bit, and it seems much happier with the pedal hard against the floor. This means one must either be changing down and braking or accelerating hard, and that is the only way to get the best out of the A110.
"We measured the acceleration figures on a quiet stretch of a flat road. Getting the car away was easy. Two or three blips to make sure it was clear, and then up to 4500rpm, foot off the clutch and throttle down, and the little rocket blasts off with no wheelspin, straight to 7500rpm in a flash. Snatch second and there isn't even time to wind the window up before the needle's spun to 7500rpm. Third and top seem to pull almost as well.
"In terms of tackling the twists, turns and climbs, it's difficult to find comparisons for a car as individual as the A110. It brings back memories of the Porsche 356B Carrera 1600, but it's not quite like that. In terms of handling, it feels most like the Lotus Elan.
"The steering is light and positive, and it handles with neither understeer nor oversteer – it just goes round corners neat and tidy at incredible speeds. Eventually, the back will skip round a fraction, but there is so much grip before this point that it is seldom reached.
"We found a superb twisty climb and really began to feel the true calibre of the A110. It's a car for the mountains all right and slips right into its element if one keeps the revs in a band from 4000rpm to 7500rpm, switching the gears all the time, lying back in the seat and practically looking through the woodrim wheel down the sloping snout as the horizon flicks and curls ahead like a Cinerama projection."
Rereading our comments from 1966 highlights just how remarkably similar the new A110 is to its spiritual predecessor. But, as with the new model, there were some complaints to be made – in this case – four.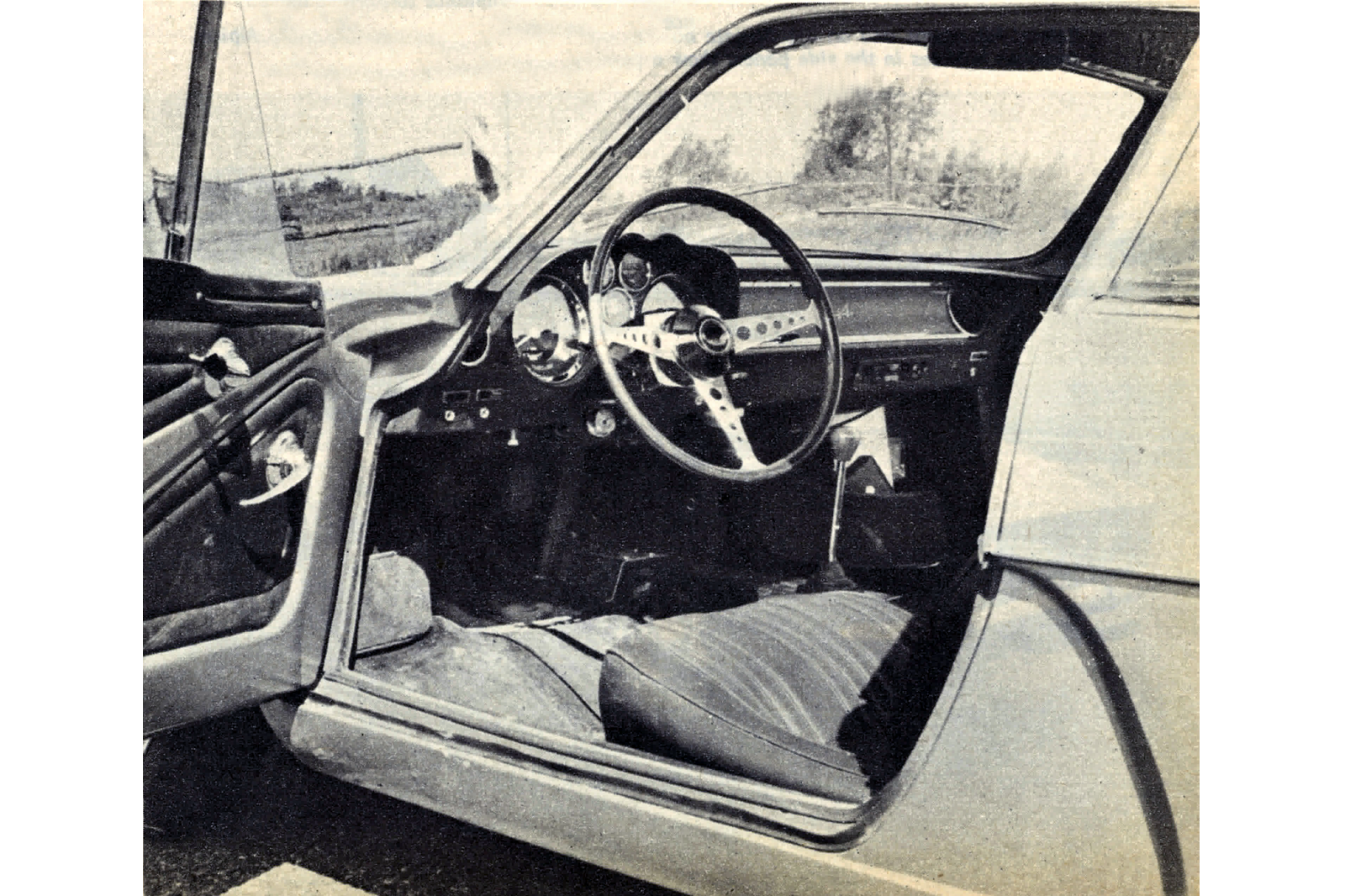 "First, the pedal arrangement prevented me from heeling-and-toeing, which meant braking always had to be done much earlier before the bends.
"Second, the brake pedal itself felt very dead unless one fairly stood on it. I would have preferred the optional servo to be fitted.
"Third, despite the fantastic cornering power, which totally disguised the rear weight bias, in crosswinds the car is decidedly unstable. On a very blustery day, I found it difficult to control on the narrow main roads at speeds above 100mph; all the time I had to work to keep it straight – it seemed to be fighting against me. But even this I could forgive, so thrilling was the rest of its character.
"Fourth? Price, at £1790 in France!". For comparison, the MG B was priced at around £1100 at the time. Adjusted for inflation, £1790 comes out at £34,500, and the modern A110 is at least £50,000, so price remains a slight sticking point.
Autocar's man concluded by saying: "One could write at much greater length about such a car as the Alpine A110 1300, and all the while regret parting with it. For me, I shall know look with a new respect when I see the marque competing in any event, and in a way, a part of me will be out there with the driver."
Read more – A brief history of Alpine
Read more – 2018 Alpine A110 review
Read more – Top 10 Throwback Thursdays of 2017 
Source: autocar
Throwback Thursday: 1966 Alpine A110 first drive