Toyota and Suzuki agree wide-ranging partnership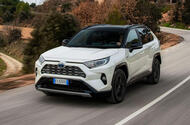 Suzuki-branded hybrid cars based on RAV4 and Corolla to launch in Europe as part of 'wide-ranging collaboration'
Toyota and Suzuki have announced a new wide-ranging collaboration, which will involve Toyota producing Suzuki-badged hybrid vehicles based on the RAV4 and Corolla estate for the European market.
The two Japanese firms signed a memorandum of understanding to develop a partnership in 2007, and have now agreed 'concrete details' of the deal. The two firms say the agreement will bring together "Toyota's strength in electrification technologies and Suzuki's strength in technologies for compact vehicles." 
The agreement is also designed to help both firms "grow in new fields", and will include joint collaboration in production and electrified vehicles. Toyota and Suzuki say they will "continue to fairly an freely compete against each other."
The two firms have given details on a number of specific projects in which they will collaborate, split into three strands.
Toyota will supply its hybrid powertrain system to Suzuki at a global level, and will supply Suzuki with two new electrified vehicles based on the RAV4 and Corolla wagon for the European market. These two cars will be produced by "OEM supply", meaning that Toyota will make them for Suzuki.
Toyota will also adopt Suzuki's newly developed compact vehicle engines in the European market. These engines will be manufactured at Toyota's Poland facility.
The two firms will also work to develop hybrid vehicles for the Indian market. Suzuki will also supply Toyota with two compact vehicles based on the Ciaz and Ertiga for the Indian market, and four vehicles in the African market. Toyota and Suzuki have also agreed to collaborate on the development of a C-segment SUV for the Indian market, with Toyota also taking on production of the Suzuki Vitara Brezza for that market.
Toyota boss Akio Toyoda said: "We believe that the expansion of our business partnership with Suzuki – from the mutual supply of vehicles and powertrains to the domains of development and production – will help give us the competitive edge we need to survive this once-in-a-century period of profound transformation."
Suzuki boss Osamu Suzuki added: "We appreciate the kind offer from Toyota to let us make use of their hybrid technology."
Read more
Toyota and Suzuki partner on green powertrain and developing markets (from 2018)
Source: – autocar
Toyota and Suzuki agree wide-ranging partnership