Uber autonomous testing suspended by Arizona state after fatal accident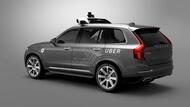 Uber has been testing autonomous vehicles since 2016
Arizona halts test programme after pedestrian became first to die in an accident involving a self-driving vehicle
Uber has been suspended from testing autonomous cars in Arizona state in the US following an accident that killed a pedestrian last week.
In a letter addressed to Uber CEO Dara Khosrowshahi, Arizona governor Doug Ducey called a video of the incident, which saw a self-driving car crash into a 49-year-old woman, "disturbing and alarming" and said it "raises many questions about the ability to continue testing in Arizona".
"As governor, my top priority is public safety," Ducey wrote. "In the best interests of the people of my state, I have directed the Arizona Department of Transportation to suspend Uber's ability to test and operate autonomous vehicles on Arizona's public roadways."
Police in the city of Tempe said that the car involved, a modified Volvo XC90, was driving itself with an operator behind the wheel when it struck a woman crossing the road with a bicycle. The woman later died from her injuries in hospital.
"A female walking outside of the crosswalk crossed the road from west to east when she was struck by the Uber vehicle," Tempe police said in a statement.
Uber said on Twitter that it is "fully co-operating" with the police investigation and has expressed condolences to the victim's family. Tempe police are investigating the incident, along with the National Transportation Safety Board and National Highway Traffic Safety Administration.
Khosrowshahi said via his Twitter account: "We're thinking of the victim's family as we work with local law enforcement to understand what happened."
Uber halted its autonomous vehicle testing, which was operating in Phoenix and Tempe in Arizona, as well as other cities including Pittsburgh, San Francisco and Toronto, in the aftermath of the accident. It has yet to officially respond to the suspension of the autonomous car programme.
The company began self-driving testing in Tempe in February 2017, when it switched operations from California following a dispute with officials in that state. A few months after testing began, an Uber vehicle was involved in an accident with another vehicle, which failed to stop at a junction. Nobody was hurt in that incident.
Tempe mayor Mark Mitchell said: "The city of Tempe has been supportive of autonomous vehicle testing because of the innovation and promise the technology may offer in many areas, including transportation options for disabled residents and seniors. Testing must occur safely. All indications we have had in the past show that traffic laws are being obeyed by the companies testing here."
Although there have been crashes involving self-driving vehicles, including a well-documented one involving a Google autonomous car in 2016, this latest incident is thought to be the first to have resulted in a fatality.
Read more
Overcoming people's fears of autonomous cars
Renault Symbioz autonomous prototype first drive
Volvo to supply 24,000 self-driving XC90s to Uber
Source: – autocar
Uber autonomous testing suspended by Arizona state after fatal accident