Used car buying guide: BMW Z3 M Coupe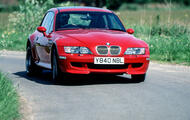 BMW's Z3 M Coupé is an engaging car with oddball looks. It's rare – and getting rarer – and prices are on the up. So don't hang about if you want one.
"A garage queen" is how one specialist we spoke to described the BMW Z3 M Coupé of 1998 to 2002.
"They're put in a garage and left there while their values rise," he grumbled. Coincidentally, one private seller we contacted for his views on his 2000/W-reg car with 83,000 miles advertised for £26,945 said he was only selling it to see if he could turn a profit, having bought it last September at auction. "I've barely driven it," he admitted.
It's a shame but to be expected since, as of the end of 2018, there were fewer than 500 of these extraordinary cars in the UK – half of them on the road and half (the garage queens) SORNed. This out of a total sold in the UK of 990 – 821 of them being the earlier S50-engined cars and the remainder the S54. Given that S50 cars have no electronic safety aids to help drivers out of a tight spot, that's not a bad survival rate.
Naturally, on the back of these low numbers, prices have been rising for some years. In 2012, high-mileage examples cost from £9000 and the best cars around £20,000. You can double, and on occasion treble, those figures now, with prices for decent high-milers starting at £20,000 and rising to £60,000 for the best, low-mileage 2002-reg cars.
What are people getting for their money? One of motoring's more interesting gambles for a start. The Z3 M roadster was already doing good business but BMW engineers hankered after producing a stiffer, coupé version combining major parts from the roadster and E36-generation M3. The board took some persuading but, when they saw what the men in white coats had created in their spare time, they were impressed enough to give the project the green light.
The first-generation, or pre-facelift, cars used BMW's 3.2-litre S50-series straight-six engine from the E36 M3, producing 317bhp and driving the rear wheels via a limited-slip diff and a five-speed manual gearbox. There was some early resistance to the car's looks, some folk likening it to a clown's shoe. Fortunately, the way it drove was no joke.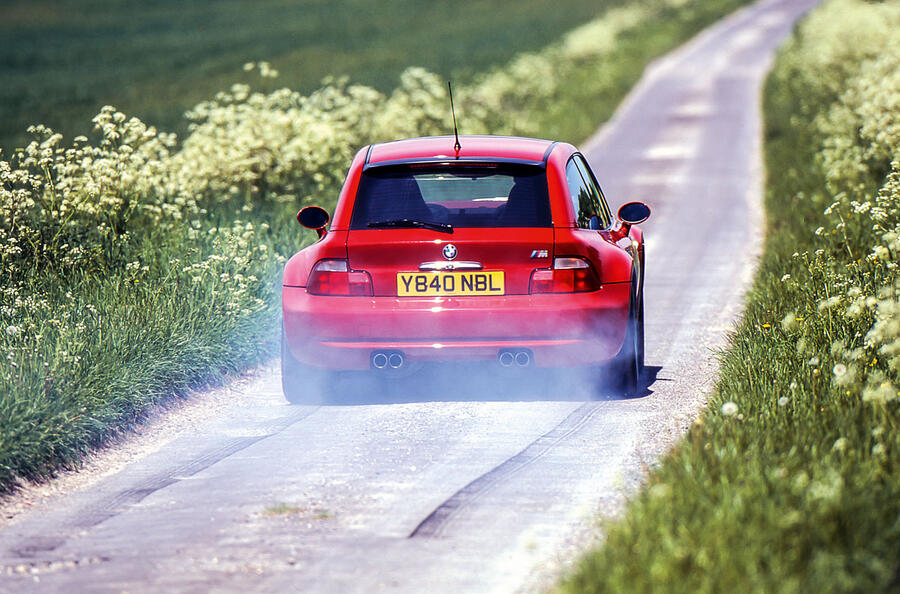 The facelift of 2000 brought more chrome here and there, some special colours and the inclusion of the fuel filler flap on the central locking system. Oh, and the new 321bhp S54 3.2-litre straight-six engine from the E46-generation M3. On paper, it's a little torquier and more powerful but the real improvement lies in its wider spread of torque and punchier mid-range. It also has a drive-by-wire throttle for smoother responses. Dynamic stability control keeps it all pointing in the right direction.
The Z3 M Coupé has been accused of being a little softly sprung at the rear, which is why you're sure to encounter cars with aftermarket springs and dampers. AC Schnitzer offered two types of suspension kit, the road one using Bilstein components. Just make sure it's sitting correctly and tracking straight. After all, a Z3 M Coupé was made for the road and not the garage.
How to get one in your garage
An owner's view – Jack Hargreaves, BMW Z3 M Coupé owner: "I've owned my car for five years. It was registered in 1999 and has done 158,000 miles. To be honest, the previous owner did most of them. It was his daily driver. Even so, I've done around 10,000 miles and it has never put a foot wrong. It's my forever car. I certainly can't imagine selling it. It was my first BMW. I'm a bit of a petrolhead and always promised myself one. I love the looks but the engine's the best bit: it feels like it'll rev forever. The car has a kind of squashed shooting brake look and it's practical, to a point. But who buys a Z3 M Coupé for its loadcarrying abilities? For me, it's all about the driving experience."
Buyer beware:
ENGINE – Oil changes are every 7000 miles for the S50 and 11,000 for the S54. A ticking sound at idle could indicate valve clearance issues. A 'tractor' sound, especially on the S50, may be the Vanos unit playing up. Oil leaks here may be failed solenoid O-rings. Disintegrating bearing shells can be an issue on the S54. (Some owners fit a later version of the engine that didn't suffer the same problem.) The S50 can suffer from a stretched throttle cable but it's easy to replace.
TRANSMISSION – A sloppy gearlever that leans towards fifth may be a weak return spring but it's an expensive fix. Difficult first- and second-gear selection may be due to low hydraulic pressure caused by the clutch hose getting hot. Check the diff mounts are secure because they can flex and crack the boot floor.
BRAKES & SUSPENSION – Listen for loose suspension top mounts thumping over speed bumps. They fail every 60k miles or so. Look for seized disc calipers, a common problem. Check if the suspension has been overhauled or, more likely, uprated with Bilstein shocks and that you're happy with the results.
BODY – Serious corrosion is likely to be accident related. Even so, check rear wings, sills and where the bonnet meets the bumper. Check the rear screen is secure and the rear wiper works.
INTERIOR –  Look out for rocking seats, sticky power windows (grease the mechanism) and a failed main light switch. 
Also worth knowing: 
The Z3 M Coupé requires three types of service: inspections one and two and an oil service, in that order. Inspection two is the major and most expensive. 
How much to spend: £16,000-£19,999 – Early, private-sale cars with around 150,000 miles.£20,000-£25,999 – Includes a 2000-reg S50 with 60k miles and full service history for £23,000.£26,000-£29,999 – On this budget, a private-sale 2002-reg S54 with 57k miles for £26,450.£30,000-£34,999 – Tastier S50s and S54s, including a 2000 two-owner S50 with 65k miles and full service history for £33,950.£35,000-£39,999 – Includes a one-owner 2000-reg with 40k miles and full service history for £36,490.£40,000 AND ABOVE – Mainly mint S54 cars, topped off by a 2002-reg with 23k miles for £59,995. 
One we found: 
Z3 M Coupé, 1998/S-Reg,173,000 miles, £20,000: This dealer-sale car has 28 service stamps (a mix of main dealer and specialist) and new sills and Vanos unit. It's finished in Estoril Blue with black leather and both keys are present.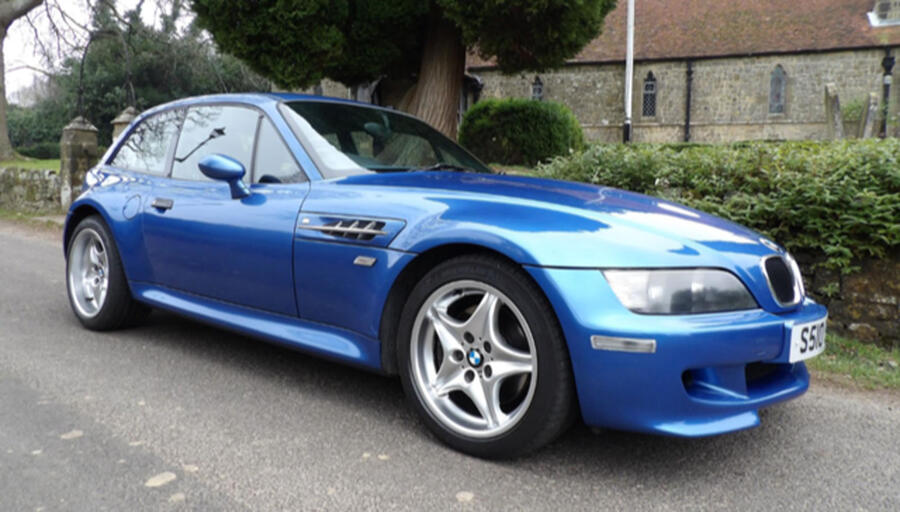 READ MORE
Source: – autocar
Used car buying guide: BMW Z3 M Coupe